This year's election in New York City is going to be huge. Due to term limits, the mayor, comptroller, and fully two-thirds of City Council seats are open to a suite of new challengers. It's an opportunity like no other to make meaningful change for our community.
Freelancers Union represents more than 500,000 members, more than 150,000 in New York City alone. Freelancers are the backbone of the economy, yet they are still left out of many important policy discussions. But we have the power to change this! When we organize our members around important policy issues, like Freelance Isn't Free, we have been able to make huge steps forward. We believe that supporting candidates who back freelance issues is an important step to building our collective political voice.
(Share your thoughts on the upcoming mayoral race)
This year, we've assembled an endorsement committee of six Freelancers Union member volunteers, from different industries and backgrounds, to help us select the candidates that we will support in this election.
For the City Council races, we identified five key districts where we know many Freelancers Union members live and work, and reached out to the candidates running in those districts with a questionnaire on freelance issues such as wage theft, housing, and racial justice. The endorsement committee then interviewed these candidates before voting for their preferred candidates using a ranked choice system.
Together, the five candidates we are endorsing are a freelance Dream Team representing a range of experiences, strengths, and passions. Some, like Chi Ossé, are stepping into the political ring for the first time after serving his community as an advocate and activist. Others, like Julie Menin, have operated within NYC politics for some time and have a wealth of knowledge about how to get things done. All of them expressed a commitment to work together to make freelancers' lives better. Read on to learn about our City Council slate and find out how to work with us to get them elected.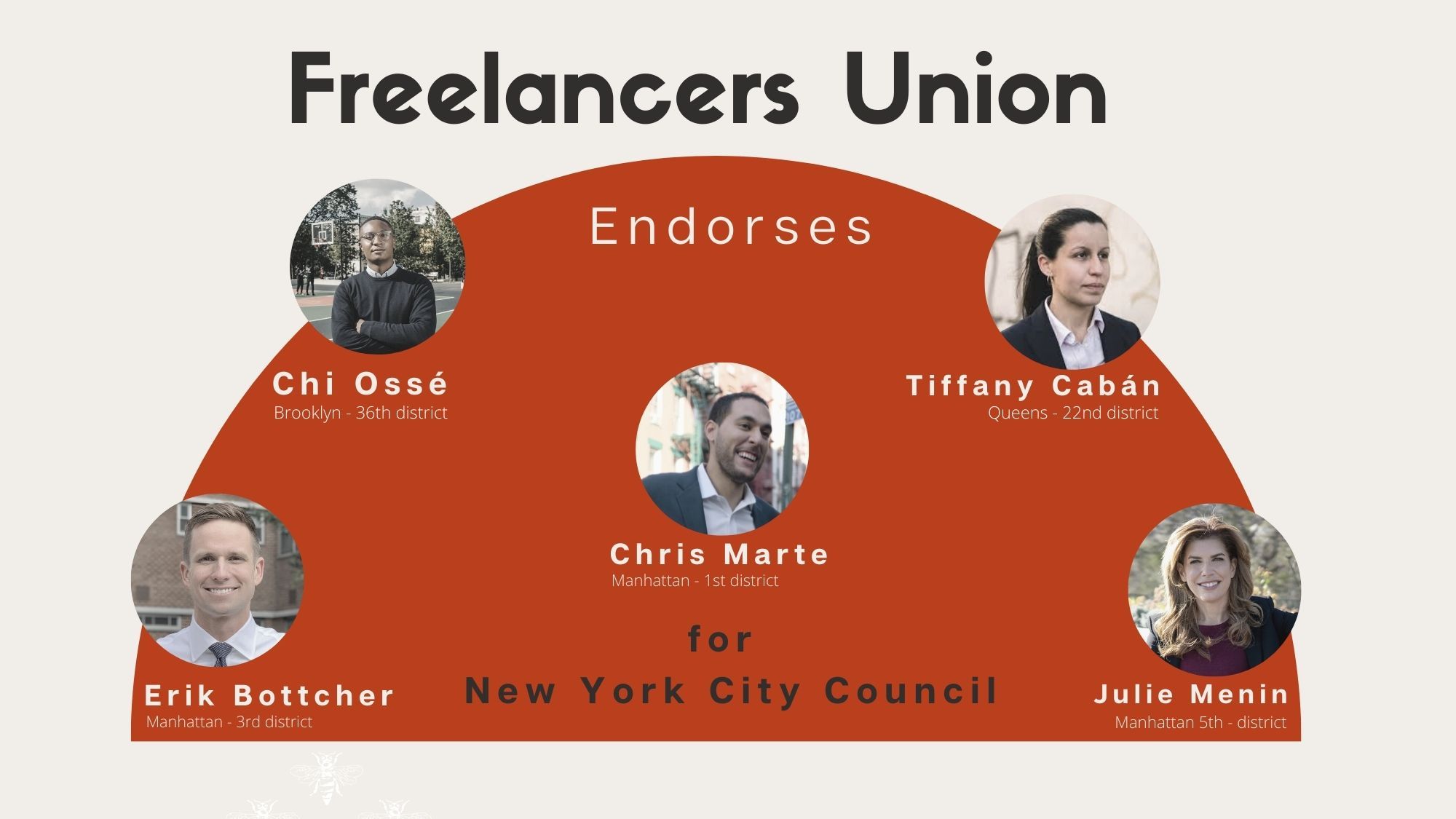 Erik Bottcher in District 3 in Manhattan (Flatiron, SoHo, NoHo, West Village, Chelsea, Hell's Kitchen)
"Independent workers are an increasingly integral part of the 21st-century economy and will only become more integral in the future. Council District 3 is home to thousands of freelancers, and as a Council Member, I plan to make them a focus of my efforts in employment and economic development." —From Erik Bottcher's candidate questionnaire
Tiffany Cabán in District 22 in Queens (Astoria, East Elmhurst, Jackson Heights, Rikers Island, and Woodside)
"During her interview with the committee, Tiffany Cabán explained that while 'our systems are laid bare in a way we have not seen before' under the current crisis, she also sees this as a turning point that invites us to reimagine those systems, making them smarter, stronger, and more relevant to today's workforce. To that end, Tiffany comes across as a sharp thinker who is knowledgeable about government, at all levels, and is committed to giving the freelance community a voice in developing sound policy around worker rights and protections." —Endorsement committee member
Chris Marte in District 1 in Manhattan (Lower Manhattan)
"I like Chris Marte because he understands the plight of freelancers from firsthand experience, and has practical ideas for how to correct the long-standing problems we face as a community of self-employed workers. Through his work with the SWEAT bill, Chis has demonstrated his commitment to addressing one of our most common issues: wage theft. I think he would be a true advocate for us should he be elected to city council." —Endorsement committee member
Julie Menin in District 5 in Manhattan (Upper East Side)
"Julie Menin's diverse professional and personal life experiences, in addition to her practical yet compassionate perspectives on governance, are the reasons why I am grateful and proud that the Freelancers Union has chosen to endorse her for City Council. Julie not only understands the great challenges facing our communities today on an intricate level, but she also has real, concrete plans about how to solve each problem. Julie has a demonstrated way of critical thinking combined with an inclusive attitude and sense of urgency that make me relieved as I imagine our city's future in her hands." —Endorsement committee member
Chi Ossé in District 36 in Brooklyn (Bed-Stuy and Crown Heights)
"I am an independent contractor who is acutely aware of the impact that gig workers and freelancers have on this city's economy. Freelancers make up 34% of New York City's workforce, and 33% of Brooklyn's. The freelancers' contributions to the City will increase in this COVID-affected economy — especially with the current fragilities of workforce." —From Chi Ossé's candidate questionnaire
All of these candidates will be on the Democratic primary ballot on June 22. To connect with us on volunteering opportunities for any of these candidates, please email advocacy@freelancersunion.org.
And as we prepare to begin the endorsement process with the mayoral candidates, we want to know: What issues do you think the next mayor should prioritize? Please take a 2-minute survey to share your thoughts, which will help guide the endorsement committee's process.