You can apply to all the gigs you want — but that get's exhausting fast. One way to stop applying and start letting the clients come to you is by making yourself visible online. Ideally, when a potential client searches for you, or what they need, I.E. freelance writer in San Diego, they'll find you via your website, social profiles, etc.
But that doesn't happen without a little work. To ensure you're found, you need to do a few key things first. Use these tips to get found online so you can continue to grow your freelance business.
Be active on social
Social media is more than a platform to share photos of your weekend adventures. As a freelancer, it's a valuable tool for getting found online. First and foremost, when searching your name, the platforms where you are active will show up in search. You can see, when searching my name, both my Twitter and LinkedIn accounts show up.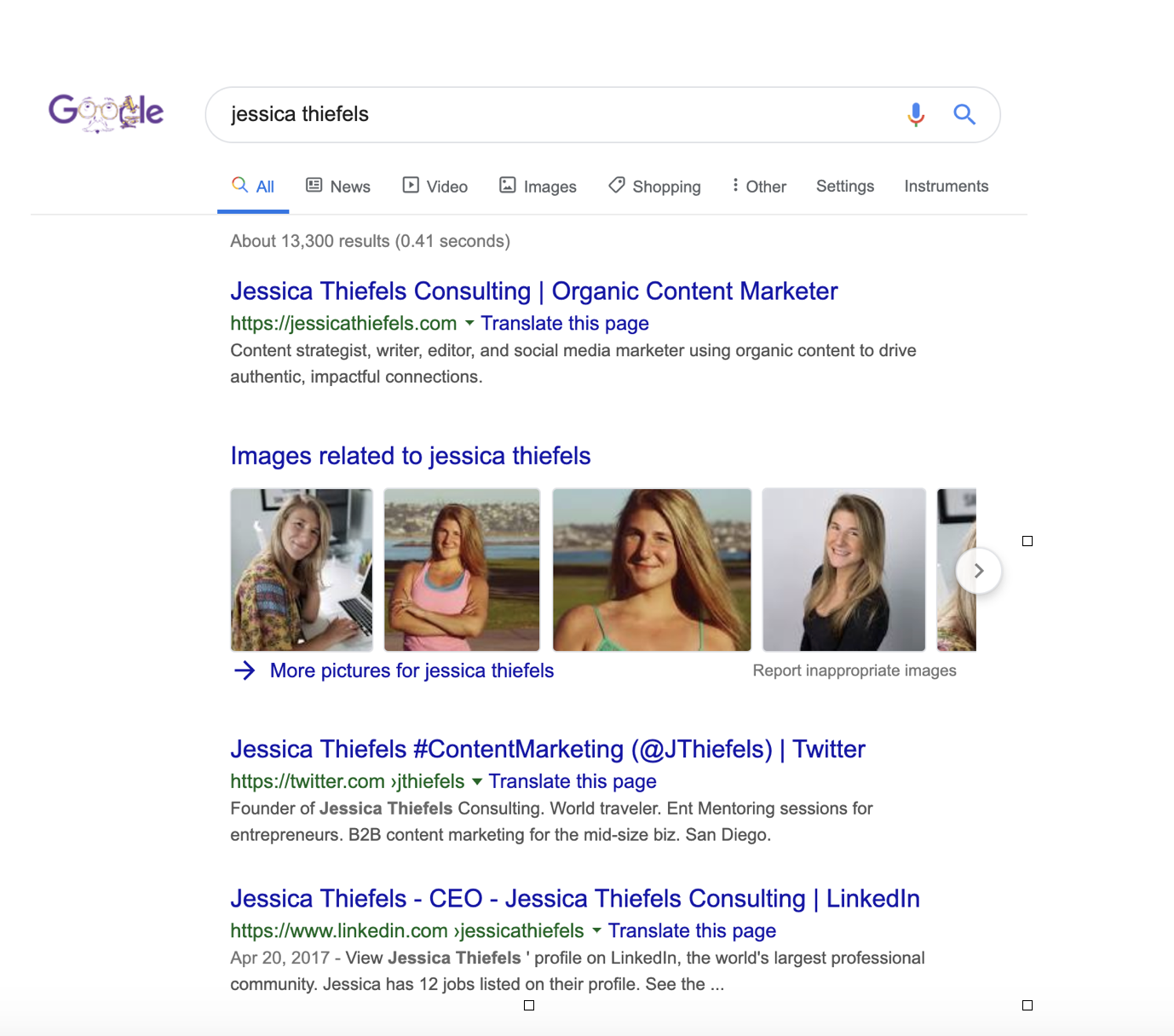 Social media is an opportunity for you to share what you know, which supplements what potential clients see on your website. Show your knowledge by posting industry-specific posts, along with client testimonials and links to other work and features you've had on other sites.
Social media is also a great way to connect with potential clients who see and interact with your posts. Use platforms like Twitter to participate in chats, which allow you to grow your following and connect with other businesses and business owners.
For example, as a web designer, you might participate in the weekly #SmallBiz chat, allowing you to share your knowledge and connect with small business owners who might need a freelance designer.
To get the most out of these platforms, choose just one or two and dedicate yourself to engaging and sharing. A strong, up-to-date and active presence looks better than one that's inactive with old information and low-performing posts.
Speed up your site on mobile
Speed is a critical factor in mobile search and therefore how Google ranks you. While this doesn't seem important, 63 percent of all of Google's organic search traffic comes from non-desktop devices. That means, it's a factor for getting found online that you can't ignore. If your site isn't up to speed, you'll have a hard time making into mobile search engines, which means clients won't find you.
Search Engine Journal further explains the importance of mobile speed, "With Google's mobile-first index also slowly rolling out this year [2019] and last, mobile continues to be Google's new preference.The slower your sites load, the more visitors and revenue you'll lose out on. For Amazon,  just one second could cost it $1.6 billion in sales each year. And, The Telegraph, a British publication, found that a four second delay reduced page views by 11.02 percent."
The good news is, Google tells you exactly what to do to speed up your site. Use Google's pagespeed tool to get your speed score and then use Kinsta's pagespeed guide to understand how to implement their recommendations. If this all sounds like a foreign language, consider hiring an SEO-focused developer who can make those changes for you.
Start a blog
Starting a blog is one of the best ways to be found online organically because blog posts allow you to target queries that your clients are searching for. For example, as a B2B content marketing consultant, I've written blog posts on topics like "how to use marketing automation for B2B content creation." The keyword focus there being "marketing automation"— something I know my target audience cares about.
As such, the foundational element of blogging is choosing the right keywords, the SEO term for search queries. The right keywords have high search volume and low competition, meaning you can easily rank in search for that keyword or phrase. If this is new to you, start with this free keyword research guide, which will help you understand how to choose keywords, where to find them, and then how to use them in your content.
As you write your blog posts, also remember that a great blog post does a few things:

Provides a solution.
Educates the reader.
Covers the topic/answers the question thoroughly.
Uses data and expert insights to back up all claims.
Let's your expertise shine.
When potential clients land on a well-written, optimized blog post, they automatically see the value you provide, along with the knowledge you have to offer.
Get your freelance business found online
Stop spending all your time chasing new clients, and instead, let them come to you. When you're active on social media, create keyword-optimized blog posts, and update your speed on mobile, clients will find you. Use these tips to get found online so you can continue to grow your business now and in the future.