This is a post by our friends at AND CO, an invoicing app for freelancers. Check out our co-created Freelance Contract here.
Quitting your 9-to-5 job to pursue an independent career can be challenging for a variety of reasons, but freelancers know that the risk is worth the reward. In fact, per a recent AND CO survey, the top reason freelancers cited for going independent was "personal growth," even if this growth comes at the expense of financial stability.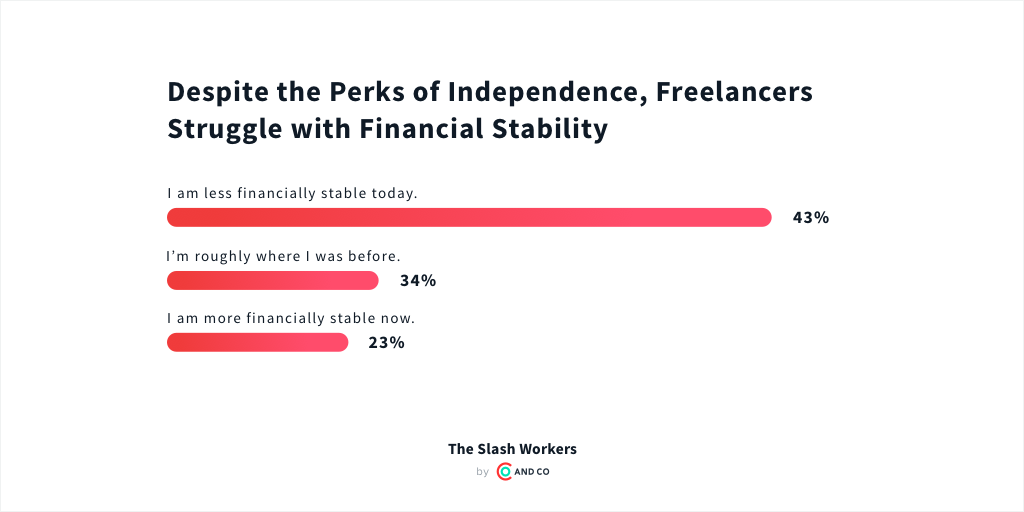 Running a business, especially at the start, is inherently dominated by a seemingly endless stream of question marks. You'll answer many of these as you go, or learn via support resources like Freelancers Union and peers in the community. When it comes to mitigating the financial risks that can accompany freelancing, consult these five tips to keep your business booming and your sanity in check.
Prioritize retainers over projects
Freelance work is often associated with being project-based, but many independents these days are establishing business structures that are more akin to solo-run agencies. As you enter new engagements, consider how your partnership could extend beyond a single execution. If you're a freelance writer and a client contracts you to produce a whitepaper, ask them if they have other recurring needs on a monthly basis.
When selling the idea of a retainer to a client, remember to demonstrate empathy and communicate the benefits of this structure in the context of their own challenges. Retainers can be much easier for clients to manage since they remove the need to have consultant costs approved internally with each task and help build an ongoing support resource that can be budgeted over time.
For you, the freelancer, the benefit is clear: A steady source of guaranteed income that can be contracted on a multi-month basis. Win-win!
Set up a system for recurring payments
One of the biggest headaches you'll face as a freelancer is chasing down payments. That's because for all of the advancements we've made in the realm of digital payments, many clients—especially those at large companies—are still operating within somewhat antiquated financial processes that can further slow down already delayed schedules (e.g. net 30, which is the norm).
Setting up an invoice, sending it to your client, and checking in on the payment status can add up to hours of lost time that you could have spent on your billable work. One way to automate and, ultimately, expedite, this process is by setting up a recurring payment system that automatically bills your client on a set schedule. For example, AND CO recently released a recurring payments feature as part of its freelance accounting software that allows you to bill a client's credit card and get paid automatically. The app will even track the payment as income, so you have it on file with the rest of your income come tax time.
Automate the way you manage your financial health
When I first began freelancing about 18 months ago, one of the first things I did was set up a spreadsheet for tracking income and expenses. As my client list grew (along with my expenses), managing the spreadsheet became more cumbersome. I would forget to add income, or fail to annotate when an invoice had been paid. Ultimately, expenses got lost in the shuffle. All of this caused a great deal of added work at the end of the month and I knew I needed to find a better way.
If you're taking your freelance career seriously, and running it not as a series of projects, but as an independently-managed business, you might consider investing in a freelance accounting software to manage the money coming in and money going out at a given moment in time. As a member of the AND CO team, I am obviously biased—but I will say that I began using the product long before I starting working with them. The app is mobile-friendly, intuitive, and it helps me be smarter with my finances in a fraction of the time.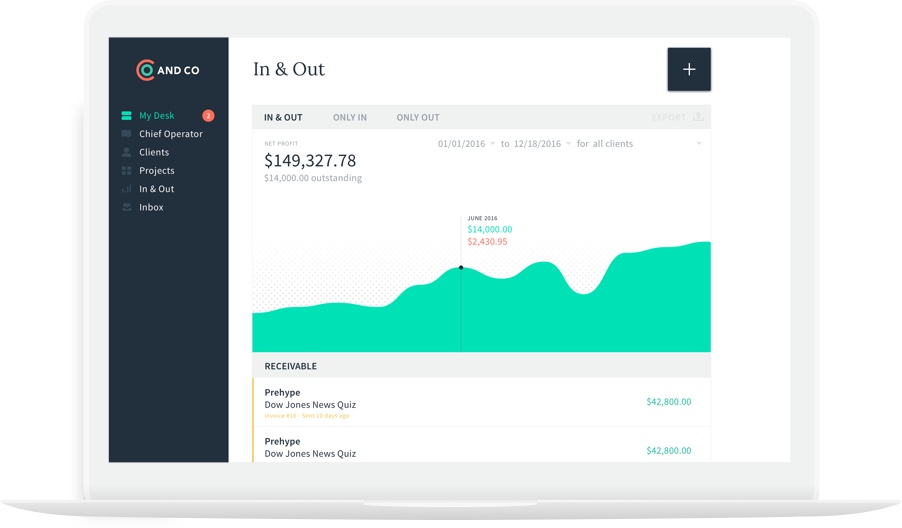 Establish a safety net, just in case.
Say your career is kicking off: You have a ton of clients, lots of billable work coming in, and you're not worried about paying next month's rent. As a freelancer, this is a dream scenario—stability AND independence, but that doesn't mean you should rest on your laurels. You should still maintaining a savings account in the event that the well dries up.
Even if you don't need the savings for survival, having a safety net will also allow you to be more flexible, which is something that most freelancers value greatly. In fact, according to AND CO's Slash Workers report, the second most popular reason for going independent is flexibility. This might mean having the option to take that two-week vacation, or temporarily dropping or pausing a client retainer to spend time working with a pro bono partner.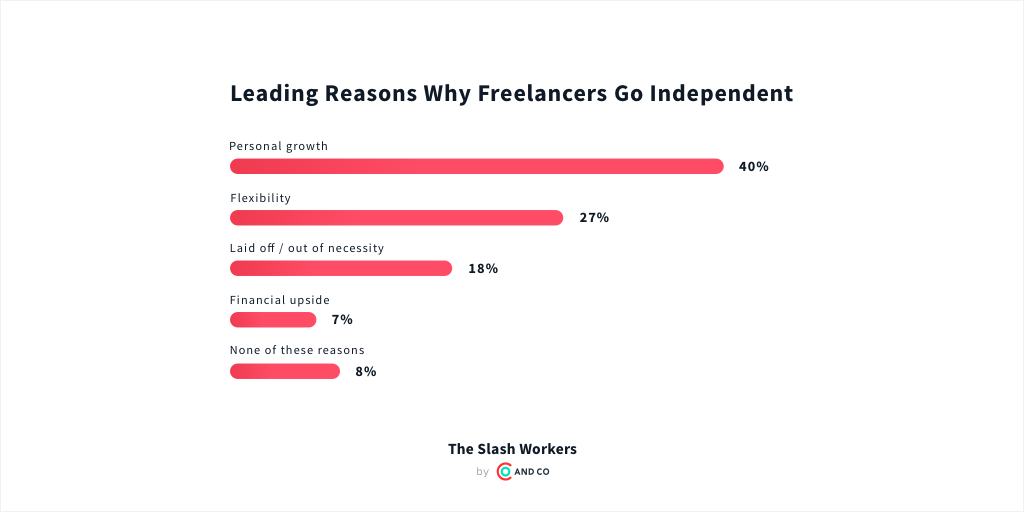 Make business development 10% of your job
In my last column, I shared some tips for seeking out freelance work and growing your pipeline. A large part of reducing the risk inherent in owning your own career is ensuring that there is a steady stream of prospective clients and work ahead of you at any given time. This means making time for introductory meetings, scanning industry headlines, and, yes, networking, too.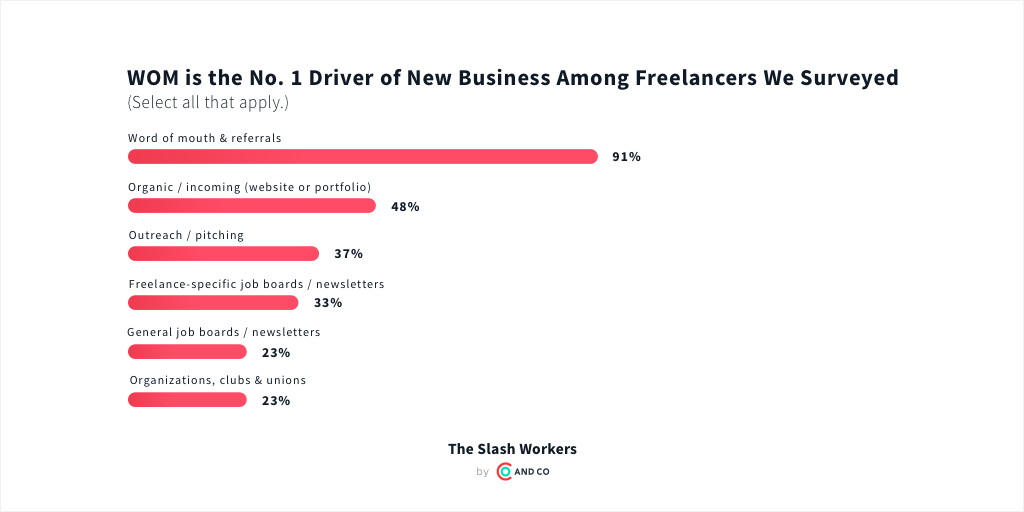 It's easy to de-prioritize these types of efforts when you have money coming in, and you might find it challenging to find time during your busy work week to do so. That said, it's important to view business development as an investment in the future financial security of your business. The nature of freelance work means that clients come and go (less frequently if you follow tip #1!), so you need to building your brand and pipeline regardless of how healthy your business is in this moment. A good rule of thumb? Slot 10% of your week (4 hours+) on it.
Looking for even more freelance wisdom? Download AND CO's new book, "Hacking Independence," for free at http://and.co/hacking-independence/.