So you're a freelancer and you need to get health insurance. Now what?
Here are the most common questions about Freelancers Union's health insurance plans in New York -- and questions about insurance generally.
If you'd like to see this post as a webinar, click here. Want a more in-depth guide, including billing, claims, and pharmacy? Go here.
Do I really need health insurance?
Yes. It's not only good for you, but, under the Affordable Care Act (aka Obamacare), it's also required that everyone get health insurance.
The penalty for not having health insurance in 2015 is pretty significant -- it's 2% of your yearly household income or $325 per person for the year, whichever is higher.
When can I buy health insurance?
You can buy health insurance any time during open enrollment, which runs from November 15 - February 15, 2015. If you purchase health insurance by January 15, you'll have coverage February 1; if you purchase healht insurance by February 15, you'll have coverage March 1.
What kind of plans are out there?
Under the ACA, insurance plans are basically offered at five metal tiers:
Catastrophic
Bronze
Silver
Gold
Platinum
As you might guess, higher metal tiers (shinier metals!) are usually more expensive upfront but cover more of your medical expenses throughout the year. Lower tiers (catastrophic and bronze) have lower monthly premiums but cover a smaller part of your medical expenses throughout the year.
For example, in a Bronze plan, your plan will pay about 60% of the average cost of essential health benefits. A Platinum plan will pay about 90% of the average cost of essential health benefits, but costs more upfront.
I think I'm eligible for a subsidy. What can I do?
Under the ACA, if you make less than about $45,000 as an individual (or $94,200 for a family of four), you may be eligible for a subsidy or tax credit towards your health plan. This is great news for many middle- and low-income freelancers. You can check here at the New York State of Health marketplace calculator. If you are eligible or think you might be eligible, you should contact the marketplace directly at 1-855-355-5777 to purchase a plan or ask questions about financial assistance.
We also have certified representatives available to help you enroll in a subsidy-eligible Empire BlueCross BlueShield plan over the phone at 800.856.9981.
What about dental and vision insurance?
All our plans offer pediatric dental and vision coverage, but not adult dental and vision coverage. You can find affordable dental coverage by searching our National Benefits Platform. We do not offer vision insurance right now.
Why did you choose Empire?
Freelancers Union spent a long time looking for the right partner who would work with us to help offer health plans for our members at the best possible value. We've utilized Empire's highly-rated network of doctors for the past 6 years, and during that time they've shown a commitment to working with us to meet the needs of freelancers. We're confident they'll continue to be great partners as we work together to make sure you and every other freelancer can get high quality, affordable healthcare.
Why should I buy insurance through Freelancers Union?
Good question! Freelancers Union's National Benefits Platform is a place built by and for independent workers where you can find a host of benefits from top-flight partners nationwide. It brings the collective power of freelancers together to take some of the anxiety and confusion out of finding health care -- and puts your insurance dollars towards a non-profit mission devoted to advocacy and education for independent workers. When thousands of freelancers get coverage together, they're a constituency, which gives us the power to advocate on behalf of freelancers with policy makers to improve health care for all.
In New York, buying insurance through Freelancers Union can also give you access to our free, unlimited primary care center -- a completely revolutionary model with free doctor visits, acupuncture, creativity classes, stress management groups, and more. Learn more about Freelancers Medical at freelancersmedical.org.
What are all of the plans in New York State through Freelancers Union?
Here are the plans we'll be offering in 2015. You can see a side-by-side comparisons of all our plans here (PDF).
Platinum 200 with Freelancers Medical
Gold 1000
Gold 1000 with Freelancers Medical
Silver 2450
Silver 2450 with Freelancers Medical
Silver 2000
Bronze 5600 with Freelancers Medical
Bronze 5600
Bronze 3000
Catastrophic 6600
What is the network of doctors and hospitals on these plans?
To see if your doctor or preferred hospital is in network, follow these instructions. Or you can choose to call your doctor and ask if they accept Empire's Pathways HMO network.
How do I find an in-network pediatric dentist?
You can find pediatric dentists by visiting this link. Select New York as your state and select Dental Prime as your Plan/Network. Then press Select and Continue. On the following screen, select Pediatric Dentistry as the Specialty. You can then search by either proximity to your area or name.
What is Freelancers Medical?
Freelancers Medical is a one-stop shop for primary care, same-day sick appointments, pediatrics, women's health, stress management, and health coaching -- all for $0 copay. If you're enrolled, Freelancers Medical is the only primary care program that you and your family can visit, with 2 locations in Downtown Brooklyn and Lower Manhattan. Specially designed with freelancers in mind, it includes access to your doctor and health coach over Skype and email, with a team that supports for your lifestyle. Learn more at freelancersmedical.org.
Want to enroll in a plan with Freelancers Medical? When applying, simply select a plan with "FM" in the name. Here are the four plans that allow you access to Freelancers Medical:
Platinum 200 with Freelancers Medical
Gold 1000 with Freelancers Medical
Silver 2450 with Freelancers Medical
Bronze 5600 with Freelancers Medical
Can I enroll at a different time?
Yes, but only if you have a special circumstance which makes you eligible for a special enrollment period. These special circumstances include:
a. Gaining or becoming a dependent
b. Losing existing health coverage (through job loss, separation from a spouse, etc)
c. Expiration of COBRA
d. Loss of eligibility for or expiration of a student health plan
e. A permanent move or relocation to an area with different health plans
f. Dramatic change in income that affects your eligibility for tax credits (which can make health insurance more affordable) or cost sharing reductions (a discount that enables you to pay less out-of-pocket for some medical expenses).
If any of these special circumstances sound like you, you may be eligible for a special enrollment period. And even if they don't, it's good to keep them in mind. Freelancing can be up and down, and if you find yourself needing new coverage, remember that you might be eligible to enroll outside of open enrollment!
Hold on, what do all these insurance terms mean?
Here's a glossary of some health insurance lingo to help you through the enrollment process.
So how do I choose what plan is right for me?
Here are some questions to think about when trying to pick a health insurance plan.
What's more important to you -- a lower monthly premium or lower out-of-pocket costs if you need care? You can't have both.
What kinds of medical services do you typically need? If you have chronic needs, you'll want to make sure your plan covers the specialist visits and prescriptions you need.
What kinds of prescriptions do you have? Some plans only cover generic drugs or cost a lot out-of-pocket. Pay attention to how drugs are paid for in your prospective plan.
It's important to remember that even if something is covered by the insurance plan, that doesn't mean it's free after you pay your monthly premium -- it just means that the insurance company will pay for part of it. Insurance won't pay for services that aren't covered, or aren't deemed medically necessary.
In general, if you know you don't need much in the way of healthcare, you might be more likely to look at a plan with low premiums and a high deductible. You'll pay less upfront, but if you do incur some expenses, you'll have to take care of them on your own until you meet the deductible. You might be interested in a Bronze plan.
If you're under thirty, you might also want to consider getting a catastrophic plan. This is a less expensive plan with low premiums and a high deductible that protects you from extremely high medical costs in the event of an accident or emergency. Of course, the risk is that if you are in an accident or receive a diagnosis of a chronic medical condition, you will have to meet that high deductible before your insurance benefits kick in. You can find a catastrophic plan through Freelancers Union here.
Conversely, if you think you'll have a lot of medical bills in the coming year (a surgery, a persistent injury that requires scans or tests, or planning on having a baby), you might want to get a plan with higher premiums and a lower deductible. Though it seems like more upfront, you'll have lower out of pocket costs over the course of the year for the medical care you receive. You might be interested in a Platinum plan.
Lastly, if you have any important medical prescriptions that require certain drugs, check your plan to see what drugs are on their formulary list (the list of prescriptions they'll cover in general).
What if I have a pre-existing condition?
The ACA made it illegal for insurance companies to charge you higher premiums for a pre-existing health condition or to deny claims for treatment of a pre-existing condition. No one is allowed to ask about your health and try to make you pay more.
I see that you have "rating regions." What region am I in?
Refer to this map below: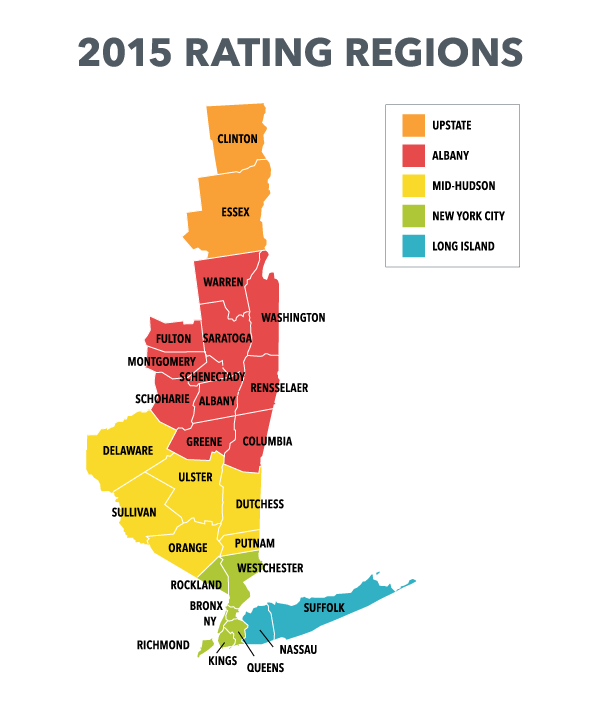 Who can I call if I have questions?
If you have questions about how to get covered, call Freelancers Union's member services team at 800-856-9981 and we can help. You can also email us at membership@freelancersunion.org.
So go forth and get covered! And spread the safety net: click here to tweet about our National Benefits Platform and tell your friends to get health insurance, too.
One last thing: you wouldn't happen to have this as a webinar, would you?
We sure do. You can check it out below:
All set? Share the knowledge. Click here to tweet about our National Benefits Platform and remind your friends to get health insurance, too.
Freelancers Union, Inc. (FU) is not a licensed insurance agent. Freelancers Insurance Agency, a wholly owned affiliate of FU, is a licensed health insurance producer in New York and New Jersey only. Freelancers Insurance Agency (FIA) contracts with HealthPlanServices,Inc. (HPS), a nationally licensed insurance producer. Other than in New York, HPS is acting as the insurance agent of record. In New York, FIA is the agent of record. HPS pays royalty fees to FU for the use of its intellectual property, which are used for the general purposes of FU. FU and FIA are not insurers. You should consider your needs when selecting products. FU does not make specific product recommendations for individuals. Each insurer has sole responsibility for its products.
The information on this Website about insurance benefits is a summary of applicable terms and conditions that is provided for general informational purposes only. The terms of any insurance products are governed solely by the applicable Member Contract or Policy Form. In the event of any inconsistency between information provided on this Website and the specifics provisions of the Member Contract provided by the carrier, the carrier's Contract shall govern.