Creating an environment that encourages and sustains women entrepreneurs should be among the top priorities for the mayors of every American city.
What are the best cities for women entrepreneurs?
The latest [OPEN State of Women-Owned Business report] ranked the top 10 American cities for women entrepreneurs: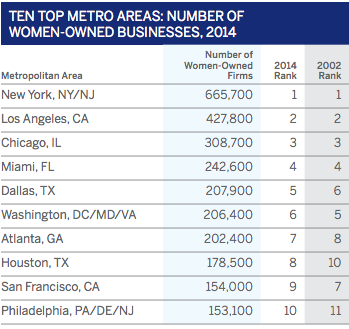 Source: OPEN report.
In 2014, New York City retained it's #1 status for women entrepreneurs. Most cities maintained their ranking from 2002, with a couple exceptions: San Francisco dropped two rankings to 9th, falling behind Atlanta and Houston, while Philly climbed up a rank.
Just missing the cut were Boston, MA and Detroit, MI. "Detroit has climbed out of the bottom five listing due to an uptick in employment growth," the report stated.
These are probably the cities you expected to make the list. But even more interesting are the cities where women entrepreneurs are successful and supported by a healthy economic environment.
This chart ranks the # of female entrepreneurs alongside the unemployment rate and the average revenue of those firms: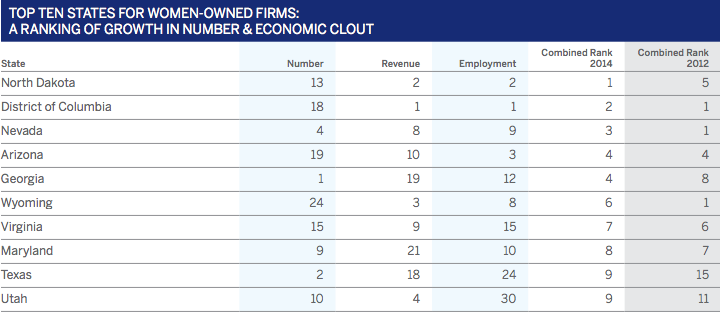 Source: OPEN report.
Great to see that although less populous states like North Dakota and Washington, D.C. have fewer female entrepreneurs, those entrepreneurs are generally more successful, suggesting a more supportive economy.
The chart shows top cities; cities with the lowest level of combined economic clout among the 25 biggest American cities are:
St. Louis, MO
San Francisco, CA
Pittsburgh, PA
Boston, MA
Miami, FL
Is your city on the list?