What does the freelancers movement really look like? Now we know.
Just a few weeks ago we launched our searchable new profile network – and the results have been stunning. Our movement now has names and faces, and they're tremendously diverse. It's everywhere – from Ogden, Utah to Ozone Park, New York.
Every city has a big cluster of freelance talent represented, a community just waiting to be activated. Freelancers all over the country are connecting with each other more than ever before.
Over 20 years of work lie behind this moment. But it takes just a few clicks for you to jump in. Get started now.
So what happens when thousands of freelancers come together? You get a whole new sense of what freelancing is all about, about how freelancers work and live. Where they are and what they care about.
There's the range of people and places and interests, and then there's the amazing range of work we do. On a single page, logo designers, copy editors, CRM consultants, bloggers, makeup artists, and strategic planners are side by side.
Over two thousand freelancers have "faved" otheer freelancers. Over 7,000 profile views and over 4,000 searches in the directory. Constant profile updates and photo uploads.
What that means is connections and opportunities. And that's in a network which has both lots of new talent and also experienced freelancers who've been doing it for a decade or more. The mentoring potential alone is huge.
This is what a great profile looks like: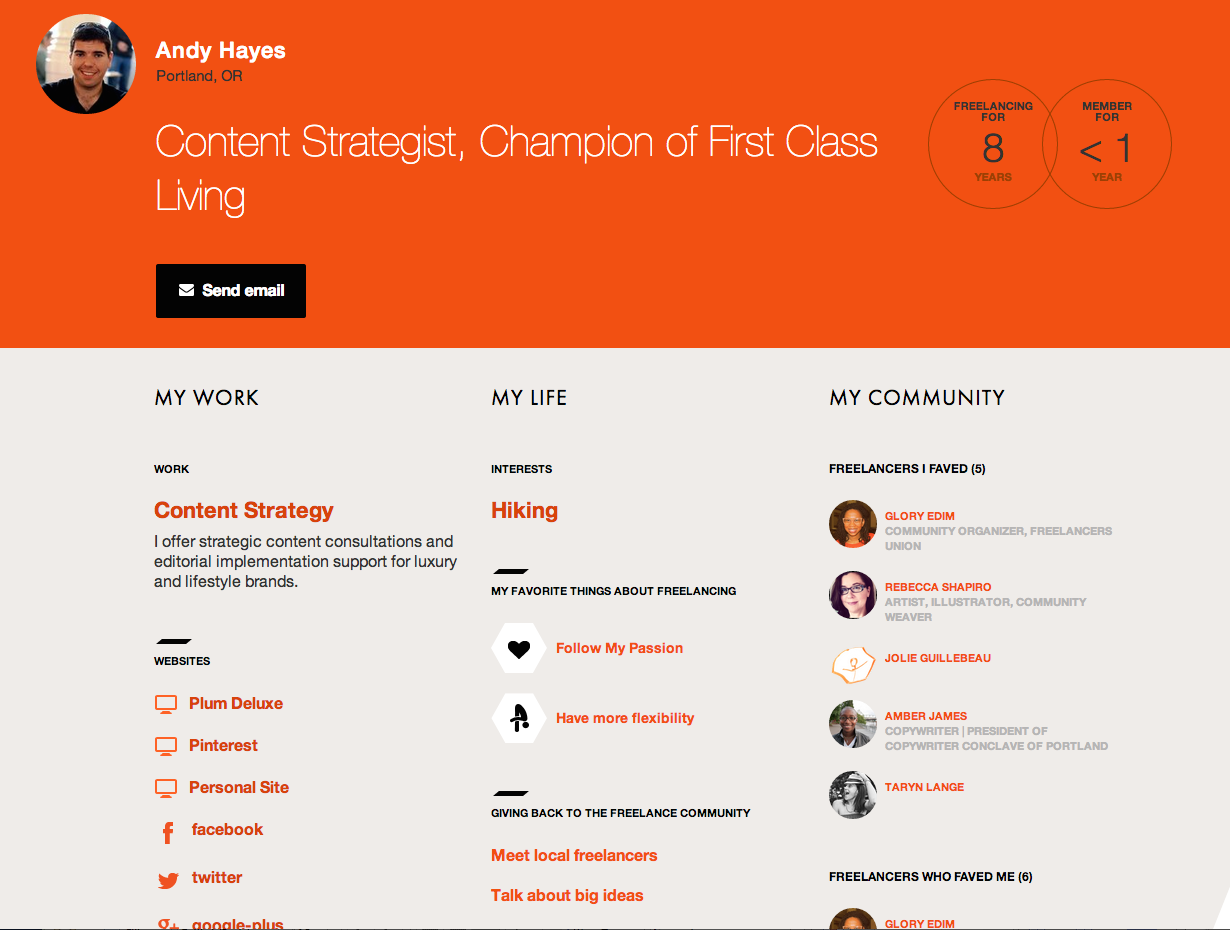 If you haven't done it yet, start building your own – and help build the movement.
P.S. I've got a profile too.
_________________________________________________________
1. Fill out your Freelancers Union profile
Share all that you are: your love for travel, your crafting hobby, and your latest project.

2. Invite your network
Share the movement with your friends and clients. Invite other freelancers to join. We're only as strong as our network!
3. Fave other freelancers
Connect with friends or people you admire by using the "fave" button.