Anyone who's paying attention knows the freelance workforce is surging. The business world sure knows. New markets and products targeting freelancers are popping up everywhere -- gig sites like Elance-oDesk, education platforms like General Assembly, and co-working spaces in basically every city.
Of course, the federal government still won't count how many of us there are. But even back in 2006 -- the last time the feds counted -- there were 42 million independent workers.
So, how many freelancers are there and what are they like? The best proxy we have is Freelancers Union's own membership data. That's why we took a dive into our own database to see just what the freelance workforce looks like -- and how it's changed in recent years.
What did we learn?
Download the full, beautifully designed report right here.
Growth, Growth, Growth
Overall, our membership has surged. Since 2007, nearly 200,000 freelancers have joined our ranks -- growing our membership 410%.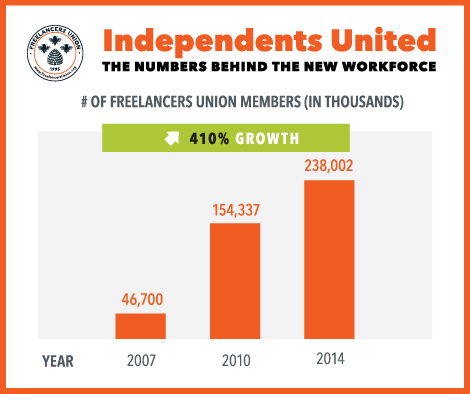 For Millennials, Freelancing's the New Normal
Millennials expect to piece together a work-life through a variety of gigs. They don't know -- and often don't want -- the traditional 9-to-5 work-life. That's why our under-30 membership has boomed more than 3000% since 2007.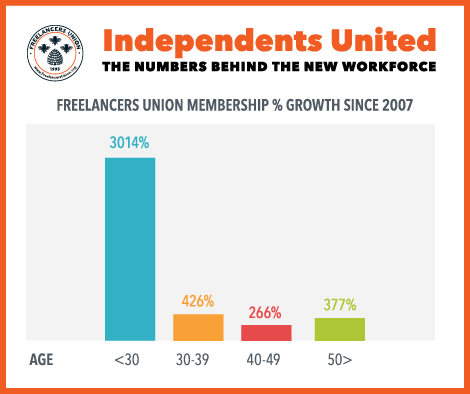 Freelancers Do It All
Artists, creatives, and writers still make up a slim majority of our membership, with tech and web development growing fast behind. But we've also seen broad growth outside of the stereotypical freelancing professions. Lawyers, nannies, accountants, chefs, yoga instructors -- you name it, our members do it.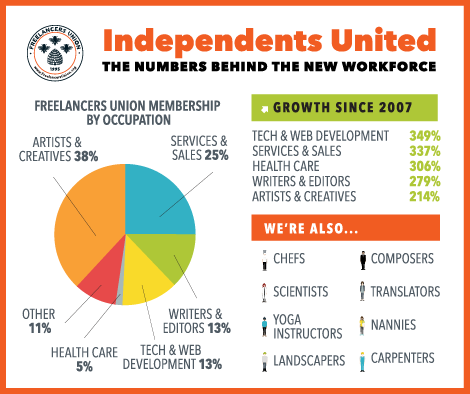 Freelancing Isn't Just a Brooklyn Thing
When a lot of people picture a "freelancer," they're still imagining a too-cool graphic designer wearing chunky glasses, typing away on his Macbook inside a bespoke Brooklyn coffeeshop. Now, those freelancers do exist -- and we love them. But that stereotype just doesn't hold anymore. We've seen some of our most impressive growth outside the expected enclaves of Brooklyn, LA, and San Francisco. Denver, Kansas City, Milwaukee, and Baltimore have all seen more than 800% member growth since 2007. We now have at least 100 members in every state.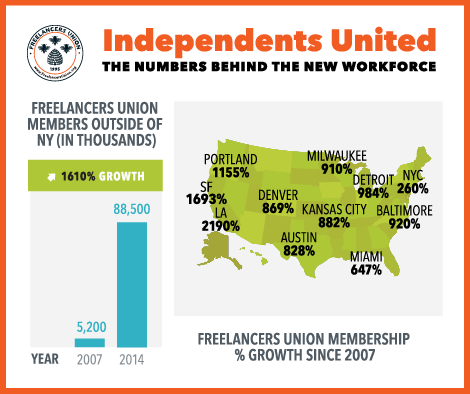 Freelancing is not just some boutique way of working. It's now the go-to way to live. The numbers prove it.