Nestled on 154 acres in the Willamette National Forest in Oregon (about 100 miles from Portland) is a wilderness spa and cooperative living community where people can retreat back to nature for a few days, or a few years.
The Breitenbush Hot Springs Retreat and Conference Center boasts natural hot springs, steam saunas, 20 miles of hiking trails and a sanctuary for yoga and meditation. It's also a worker-owned cooperative.
It was originally founded in the 1920s as a hot springs spa, but a series of floods in the early 1970s left the mountain property crumbling, overgrown and nearly forgotten. Until 1977, when a guy named Alex Beamer bought the property with an eye to restoring its former glory. He started hosting friends and anyone else willing to pitch in and work.
Over the next couple of years, the community grew, organized and decided to purchase the property from Mr. Beamer and form a cooperative. That's when the retreat and conference center was born.
There are about 65 full-time residents, most of whom are worker-owners, and the center hosts more than 150 events each year.
Its mission is, "To provide a safe and potent environment where people can renew and evolve in ways they never imagined." It's a holistic, New Age, counterculture paradise.
After working there for a year, an employee can become a worker-owner with a $500 membership deposit.
For those unable to commit to a life in the wilderness but would still love to spend some time there, Breitenbush offers affordable nightly rates: If you stay for a week or more, or are a member of any work-owned cooperative organization, you get a 10% discount.
Be forewarned: You'll be off the grid for the duration of your stay. Internet and phones are available only for emergencies. Some of the facilities are "clothing optional," so be prepared for that, too.
Credit: Images are from the Breitenbush Hot Springs Retreat & Conference Center photo gallery or Facebook page, unless otherwise specified.
The center operates year-round. Don't worry, the water's always hot.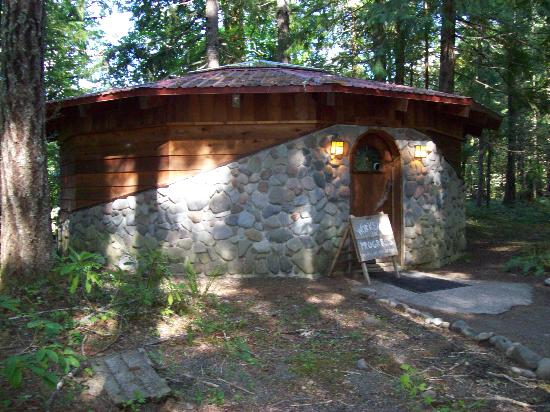 One of the workshop buildings. (Image: TripAdvisor)
The retreat is set on 154 acres in the Willamette National Forest in the Cascade Mountains of Oregon, about 100 miles southeast of Portland. Don't have a car? Breitenbush runs a rideshare website.
More than 150 retreats, conferences and workshops each year draw roughly 20,000 visitors.
Three vegetarian meals per day are provided to everyone---guests and community members. The place is also vegan-friendly.
Massages and yoga classes are among the well-being programs available to community members and guests.
The center draws power from its own little hydroelectric plant and uses it judiciously.
The Breitenbush credo: "We see ourselves as guardians of Breitenbush Hot Springs, safeguarding the earth and healing water...Our primary service is to provide a healing retreat and conference center which promotes holistic health, spiritual growth, and facilitates the gathering of people in celebration of the experience of life."
This is part of our summer series, "Let's Co-Vacation: Together we can own the summer again," where we highlight collectively-owned summer destinations. We recently profiled the Prince George's Swimming Pool in Mt. Rainier, MD.
Breitenbush Hot Springs is just one of the hundreds of New Mutualist organizations you'll find on our Quiet Revolutionary map! Are there any New Mutualist organizations in your area that belond on our map? Be sure to submit your idea!