Customer acquisition is the process of attracting new customers to a business. In marketing, acquiring and retaining customers are the two most important things to sustaining growth — but only 44% of companies concentrate their marketing efforts on customer acquisition. While there are many methods you can apply to get more eyeballs on your brand, here are seven proven strategies your competitors know and hope you never learn about acquiring new customers.
1. PPC advertising vastly improves your ability to scale
Your competition likely understands that pay-per-click (PPC) advertising offers the most direct path to getting new customers. With PPC advertising, you can set a budget and get immediate returns, which is otherwise impossible through other advertising methods.
PPC advertising allows you to instantly compete with corporate giants who have a lot more money to spend — as long as your marketing message is compelling to your target audience. Google ads account for 65% of clicks for high commercial intent keyword searches (commercial intent means people who have the intention to buy a product or service). PPC advertising also enables you to immediately garner attention, even if your website is not highly ranked in the search engines.
How to do it:
Check out Hubspot's Ultimate Guide to PPC and begin testing ads for your service. No matter what anyone tells you, a winning formula is always based on split testing to see what works. Use A/B testing platforms to find the type of messaging that gets the best response (and most clicks) from your target audience.
2. Providing value is the best way to gain trust
An exceptional customer experience can lower your customer acquisition costs by 33%. What does your company give away for free to enrich the lives of the people you wish to serve? Take Google, for example: The tech giant is one of the world's biggest companies, yet most of the people who use its products and services don't pay the conglomerate a dime, whether it's Gmail, Search, YouTube, Google Photos, or Drive. The value that Google provides at no cost is incredible.
How to do it:
Find valuable tools and resources that will provide "quick wins" for your audience. You can do this no matter what niche you offer services. Take, for example, Transcription Outsourcing, which provides individuals the opportunity to work remotely as transcriptionists. On their application page, they provide free access to resources that will help applicants become better transcriptionists.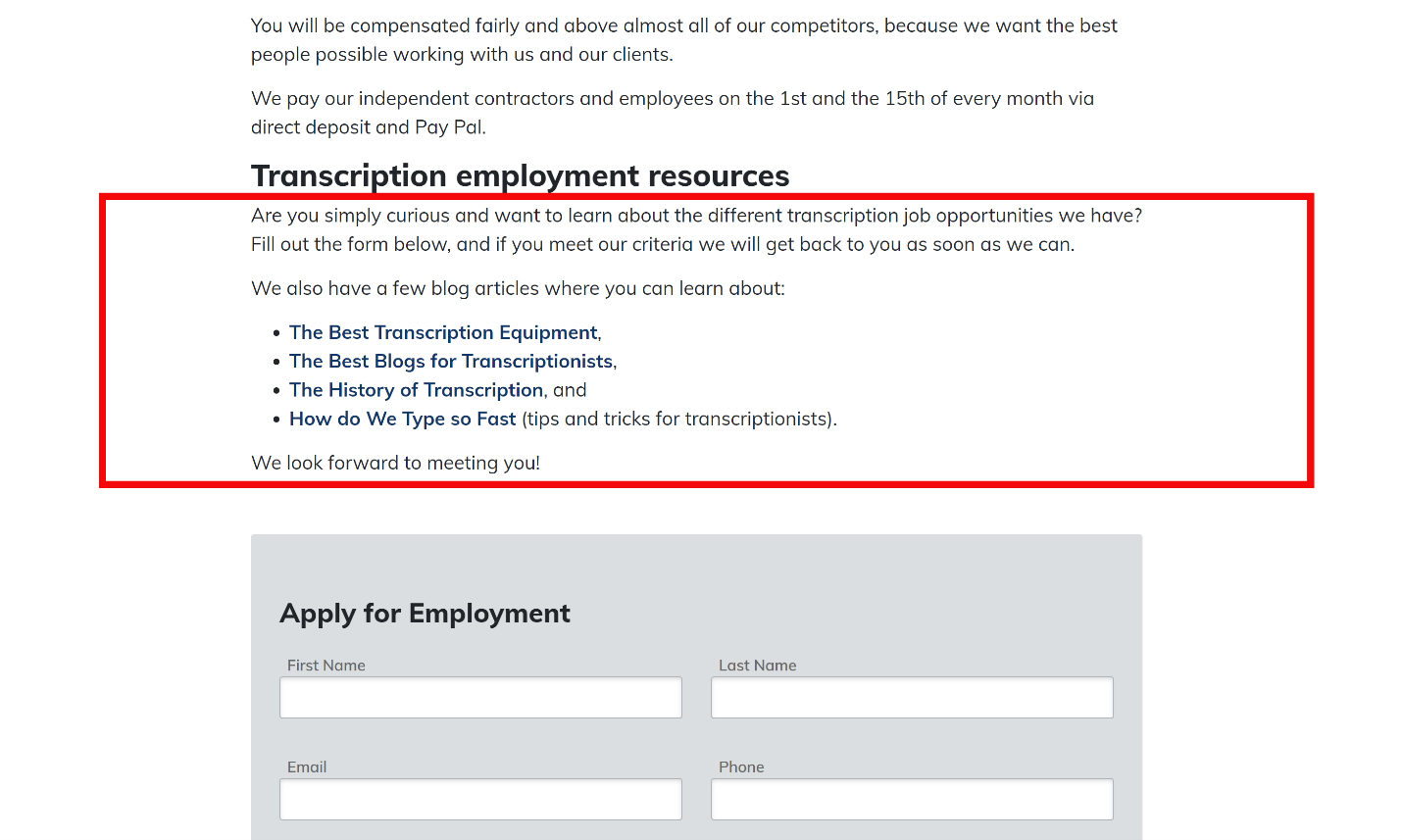 This type of incentive is perfect for an opt-in or application page, as studies show that 66% of customers will only exchange personal information with brands in exchange for some value.
Picking between one company and another is simple for customers: They choose the one that adds the most value and enriches their lives.
3. Customer referrals are still the most effective way of generating instant credibility
Customer referral programs can also be an excellent way to pass on information about your brand. While this might initially appear to be a low-tech customer acquisition method, it is still highly effective. Customers are more likely to tell their family members or friends about your brand, regardless of their experience — so make sure it's a good one.
Customers gained through referrals have a 37% higher retention rate, and 81% of consumers are more likely to engage with reward programs. For consumers to believe a company, the company must build credibility, establish trust, and offer an attractive product or service. By leveraging consumers who trust your brand, you will experience higher conversion rates at a lower cost.
How to do it:
Create a customer referral program to incentivize happy clients to share their experiences with others. A tool like Friendbuy can help you automate your word-of-mouth marketing campaign.
4. Email marketing ROI metrics are insane
Approximately 59% of B2B marketers say email yields the greatest ROI in their marketing campaigns. Engaging in email marketing is a way to provide your target audience with the necessary information to ensure their brand loyalty. The Data and Marketing Association claims that email is the most critical digital medium for returns on investments. An eMarketer study also claims that the returns on email marketing returns are astoundingly high, with a median ROI of 122%.
Your competition also understands that email marketing offers them a unique opportunity to increase awareness, and that raising awareness plays a huge part in customer acquisition. You get a direct line to current and prospective customers, reminding them of your brand and its services. Most companies shy away from email marketing, as initial subscribers do not typically become immediate customers. Remember that this process enables your brand and your services to remain at the forefront of a customer's consideration when they find themselves in need of services or products like yours.
Just being present in their mind makes them more likely to select your business!
How to do it:
Use this "Guide to Email Marketing for Beginners" to lay the groundwork to launch a successful campaign. Studying examples of the best email marketing campaigns and understanding why they are useful will help you craft your engaging email sequences.
5. Content marketing is a necessity
Content marketing gets three times more leads than paid search advertising. It ensures that you establish your brand as a subject expert in your industry. The problem is that 65% of freelancers and business find it difficult to produce engaging content, and 60% admit that they don't produce content consistently.

Your competitors understand that customer acquisition requires you to provide something of value. When you provide valuable information consistently, you quickly become a trusted source for all content in your field.
Content marketing is more than written information and can be delivered in different formats, including:
· How-to guides
· Charts / graphs
· Cartoon illustrations
· Webinars
· Surveys
· Videos
· Quizzes
· Polls
· User Generated Content
With 79% of marketers seeing an increase in traffic when adding videos, graphics, and other eye-catching or interactive mediums to their website, integrating different content in your marketing strategy is essential.
How to do it:
Determine what form of content you deliver best (social media, live video, paid advertising, offline in-person seminars) and begin creating and distributing content on a consistent schedule. Need direction on where to start? Use a tool like Answer the Public to see what people in your niche ask about your topic and create content around answering those questions.
6. Social media is no longer the new kid on the block – it's king
Social media platforms like Twitter, Instagram, and Facebook have all experienced an exponential increase in popularity. Naturally, this leads to social media being a focal marketing tool. For instance, Facebook has an average overall conversion rate of 9.21%, surpassing the average landing page conversion rate of roughly 2.35%. Compared to the top 25% of company landing pages enjoying a conversion rate of (on average) 5.31%, this shows social media's true prowess in our current marketing landscape.
It is vital for businesses to understand that brand recognition is essential, and social media offers itself as a free platform to achieve just that. The Secret of Search Study discovered that 82% of participants selected brands they already knew when asked to search for items online. Your target audience needs to know that your brand exists; social media provides the most cost-effective way to do that.
How to do it:
Begin by focusing on one social media platform before jumping to the next.
Research what platforms your target audience uses regularly and start there.
Once you have a platform selected, use social media scheduling tools to automate your posts for consistency.
7. Free never goes out of style
Finally, your competitors keenly understand that one interesting way to convert your target audience into customers is by offering a free version of your product or service, allowing people to try it out before committing. If they enjoy your service or product, they are now much better informed to take the next step and make a financial commitment.
A Totango study pegged the conversion rate of opt-in free trials at 15%, increasing to 50% for opt-out trials. Other single-company reports average such conversion rates higher, on average, with companies offering demos getting a 40% conversion of test trials into paying customers!
While these numbers may seem impressive, please keep in mind that this tactic must be part of a broader marketing strategy. When offering a demo or free trial of your product or service, you should ensure that what your company offers is something that will bring a tremendous value to the consumer and, once trialed, will leave a void if removed.
You can see this displayed in software tools that make work more efficient, fitness programs or products that yield quick results, and training programs that provide tremendous insight.
How to do it:
Select a part of your core offering that you could let customers trial for free. This could be in the form of a demo, a free trial, or a no-cost consultation. Doing this will give your customers a risk-free way to see what you have to offer.