In 2019, there were 57 million Americans who freelanced. That's about 35% of the U.S. workforce. Freelancing's growing popularity can be attributed to a number of perks, from schedule flexibility to work-life balance. Even traditional businesses benefit from working with freelancers, and are opening their doors to them in increasing numbers.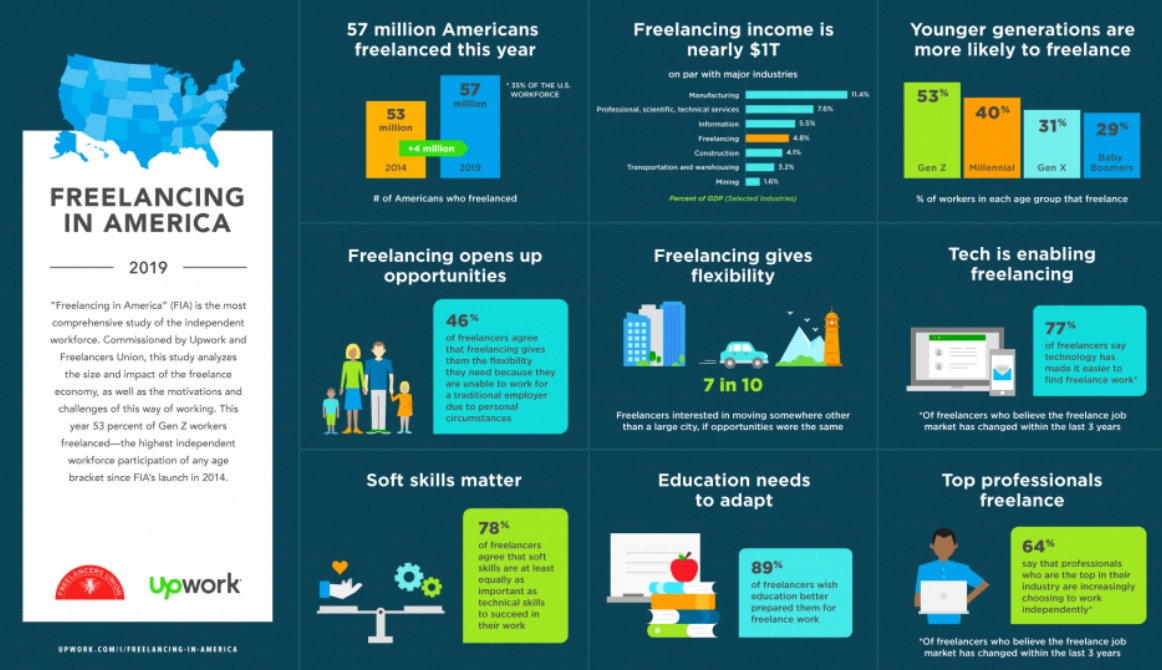 Freelancing in America (FIA) Statistics (Source: Upwork)
As the freelance space grows more crowded, it's important to find effective ways to promote the services you offer. One of the easiest is through social media platforms. Don't forget LinkedIn.
Why use LinkedIn
LinkedIn may not be the first option freelancers think of, because the common assumption is that it only benefits traditional businesses. But freelancing is all about building a network, and there are currently more than 650 million LinkedIn users. Further, LinkedIn has been paying attention to the growing freelance community, and stepped up its game to become more freelancer-friendly.
Connect your website to your LinkedIn profile
If you don't have a website or blog yet, it's fairly easy to create one with WordPress just as these brands did. The best part? Using Wordpress to run your site is free.
A website adds to your credibility, and linking it to your LinkedIn profile will help drive traffic back to your website when someone browses your profile. It will give them the chance to see your whole portfolio aside from the samples you have posted on LinkedIn.
Optimize your profile
Start with polishing up your LinkedIn profile, both visually and content-wise. This will ensure that you show up in search results.
Here are some ways to do that:
Add a professional-looking photo. Did you know that having a profile photo on LinkedIn will likely get you 14 more views than someone who doesn't have one? A small step like this will give a human touch to the rather cold, virtual screen.
Some of the important things to keep in mind are: 1) Use a headshot; 2) Make it high resolution; 3) Dress professionally and; 4) Keep the background simple and neat.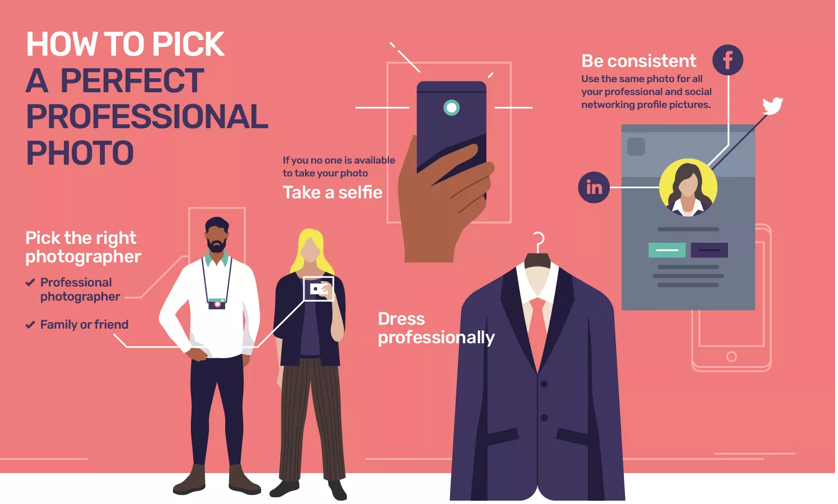 How to Take and Choose a Professional Photo for LinkedIn (Source: The Balance)
Choose the right keywords. Words matter, but which ones exactly? LinkedIn is still pretty dependent on keywords. However, don't just stuff your profile with a bunch of keywords without context. LinkedIn has its own spam detection algorithm that might filter you out from the search results.
You can start by focusing on the kind of client you want to work for. Try to think of the words they would use to find you. At the same time, think about what you do. What do you want to be known for? Try to avoid putting in keywords that don't strongly apply to you.
From there, start sourcing keywords from the industry that you're in. If you're in the writing industry, you could indicate that you are a "freelance writer." Take the extra step to make it more specific: what exactly do you write about? Health and Fitness? Finance?
You can now place these keywords anywhere in your LinkedIn profile, but the headline, summary, and experience fields are recommended.
Craft your profile based on your ideal client. Your LinkedIn profile must impress and captivate them. Rather than enumerating what you have achieved, tell an engaging story. Make it crystal clear what exactly you do, who you do it for, and how you can solve your prospect's problems.
Include samples of your previous work. Post links or upload samples of the projects you have worked on. Make sure that what you share is exactly what your ideal client is looking for. You have the option to place these in your summary, experience, or education.
Personalize your URL. Customizing your LinkedIn URL will help establish the brand that you're trying to create and make your link easier to remember. It will also help people find you faster.
If you can, use a handle that's already consistent with your other social media accounts (e.g. Facebook, Instagram, Twitter). This way, people will be assured that it's really you.
Get recommendations from previous clients.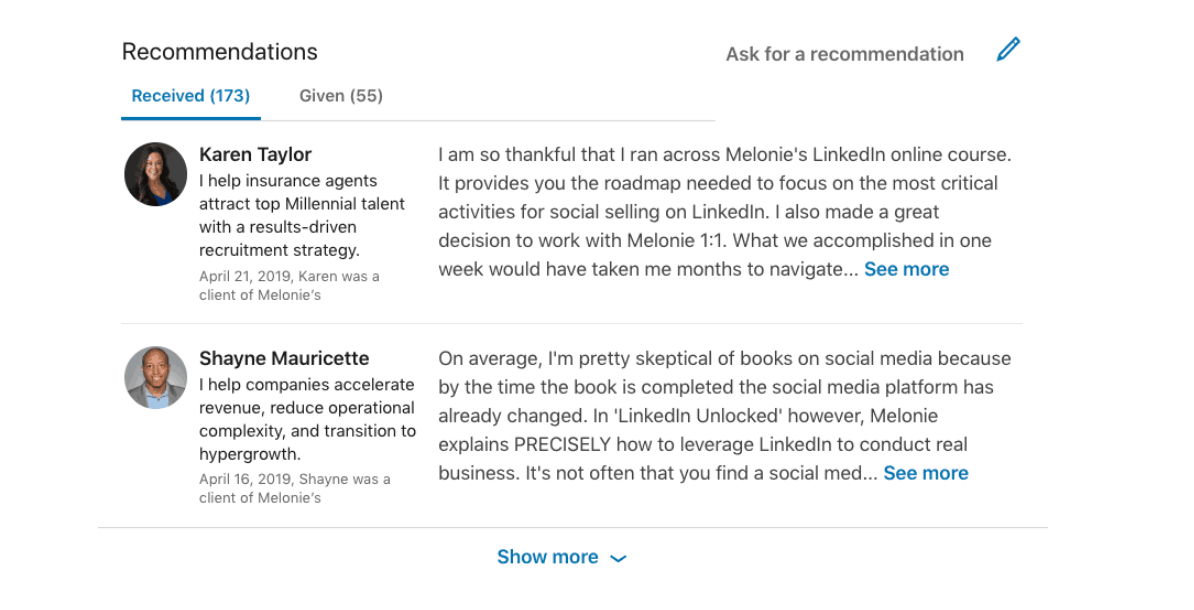 LinkedIn Recommendations (Source: LinkedIn)
Don't underestimate the power of social proof. LinkedIn Recommendations acts as a review page. It tells your story from the perspective of your previous clients. This will let your ideal client know that you are credible and they can rely on you. Don't be afraid to request recommendations from credible people who know you. You've earned it.
Use the $1.80 technique. This concept centers around engaging, adding value, and building relationships within a community of people who care about the same things as you do. It originated on Instagram, but the $1.80 strategy also applies to other social media platforms including LinkedIn.
Gary Vaynerchuk explained it as "leaving your personal .02 cents on the top nine trending Instagram posts for 10 different hashtags that are relevant to your brand or business every single day." He recommends doing this 90 times a day, thus reaching $1.80.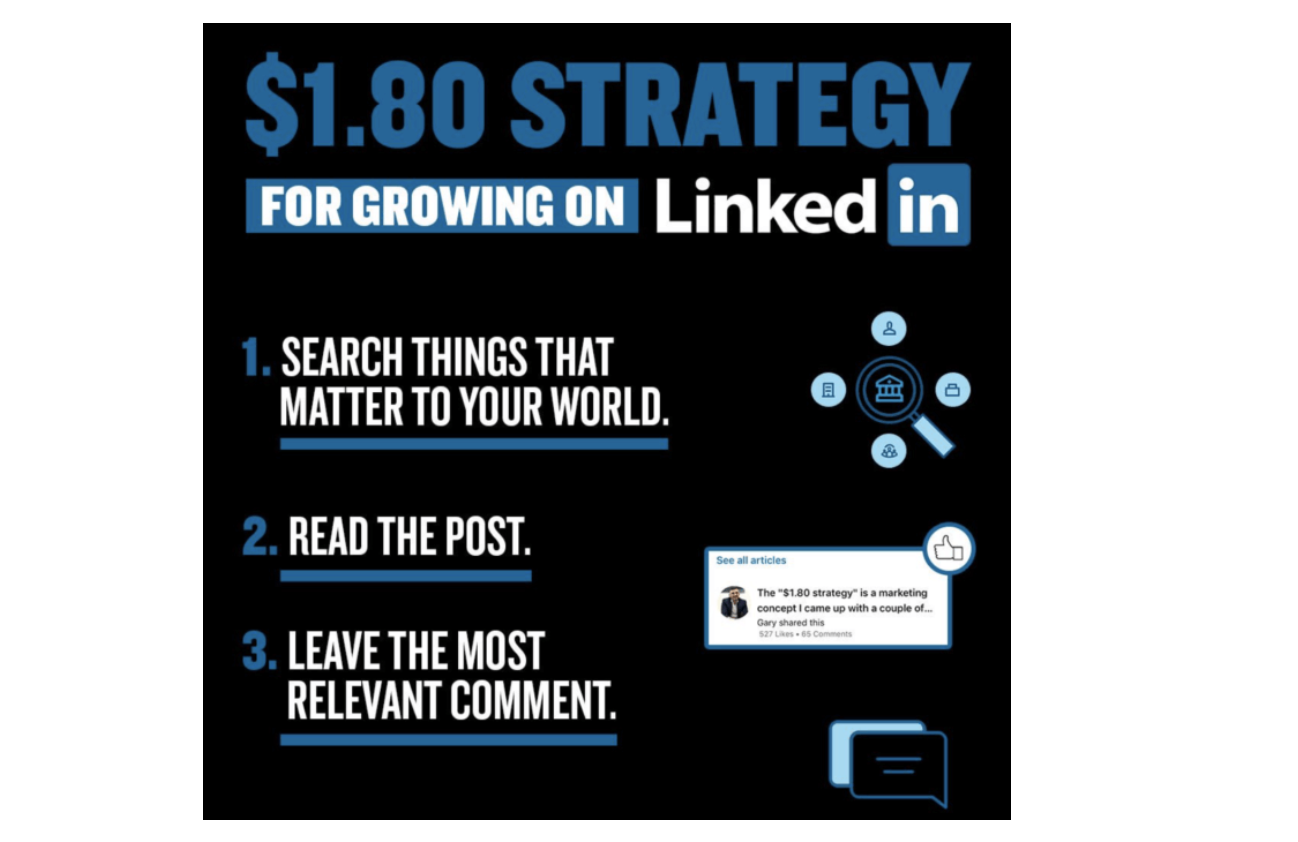 5 LinkedIn Marketing Strategies for 2019 (Source: Gary Vaynerchuk)
Publish LinkedIn articles. LinkedIn has a publishing platform that is "an ideal forum to develop and strengthen your professional identity by sharing your knowledge and expertise in your job."
Take this opportunity to shine — show people that you know what you're talking about. Once people take interest, they will engage in the conversation and may even share it.
Invest in LinkedIn Learning. It's an online learning platform that offers business, creative, and technological courses taught by professionals. The subscription fee is waived for the first month.
Engage with potential clients. Your LinkedIn profile is now impressive to look at, but the job doesn't just end there. Now you must seek potential clients.
You could either check who has viewed your LinkedIn profile or use keywords to search for potential clients who could benefit from the services you offer. Once you know who they are, take the chance to research their company, what they do, and what they need.
When you approach them, they'll know that you're serious.
From there, you can opt to send them a cold email. It may seem daunting at first, but the more you do it, the less you'll worry about each potential response (or lack of).
Respond to advertised freelance jobs. Every opportunity counts. If you think you can solve their problem, then let them know. The opportunity is there, you just have to take it.