This is a sponsored post from Joust, the first financial services company animated by and focused on the unique needs of freelancers. What if your bank admired your passion and respected your work? And what if it could guarantee you got paid? PayArmour, a revolutionary new solution from Joust, takes the hassle out of invoicing clients and protects you against client nonpayment.
You didn't want to be stuck in a corporate workplace. That was part of the point of going freelance.
"Incorporate" might sound wrong at first.
Your skills and expertise are what matters. Your pitch is about you, the professional person. Why not keep signing contracts as an individual?
To protect your personal assets.
A freelancer is considered the sole proprietor of a business. That means if your business gets sued, you're personally responsible. Creating a Limited Liability Company (LLC) does exactly what it says: limits your liability and protects your personal assets.
But that's not all:
Tax breaks
In a post-Citizens United era, if the Supreme Court says corporations get the rights of people, people may as well get the advantages of corporations. In most cases the Tax Cuts and Jobs Act allows a 20 percent deduction on pass-through business income. (One caveat: Not if your income exceeds $157,500 (single) or $315,000 (joint)—in that case file under "good problems to have.")
Structure
Say your business takes off. When it's not just you anymore, incorporating will provide clarity and structure. It will also put all your hard work into the form of a thing that can be valued and transferred.
Retirement may seem only a hair more likely than being sued, but when that time comes—or if you decide on a career change—an LLC will allow you to sell off your business and formally hand over the reins.
Legitimacy
From a business relationship perspective, Your Business Name, LLC, telegraphs that you're taking this seriously. Not only are you established and legit, you've drawn some boundaries. It says to your potential client, "I will be completing your contracts with the utmost professionalism," and also "I know the right way to do things, and expect the same from my clients."
Jumping through a few hoops now to incorporate as an LLC will set you up with a lot of protection for the long run. These hoops are low, and they're not on fire or anything. You can totally do this.
Get it done with Joust
Registering in your home state is the path of least resistance for most U.S. residents. However, some states are more corporate-friendly than others, namely Wyoming, Nevada, and Delaware. All three have no minimum capital requirements, allow one-person corporations, and let you operate remotely. There are many online registered agents in these states that will create an LLC remotely.
We recommend Wyoming. Devils Tower? Old Faithful? Grand Teton?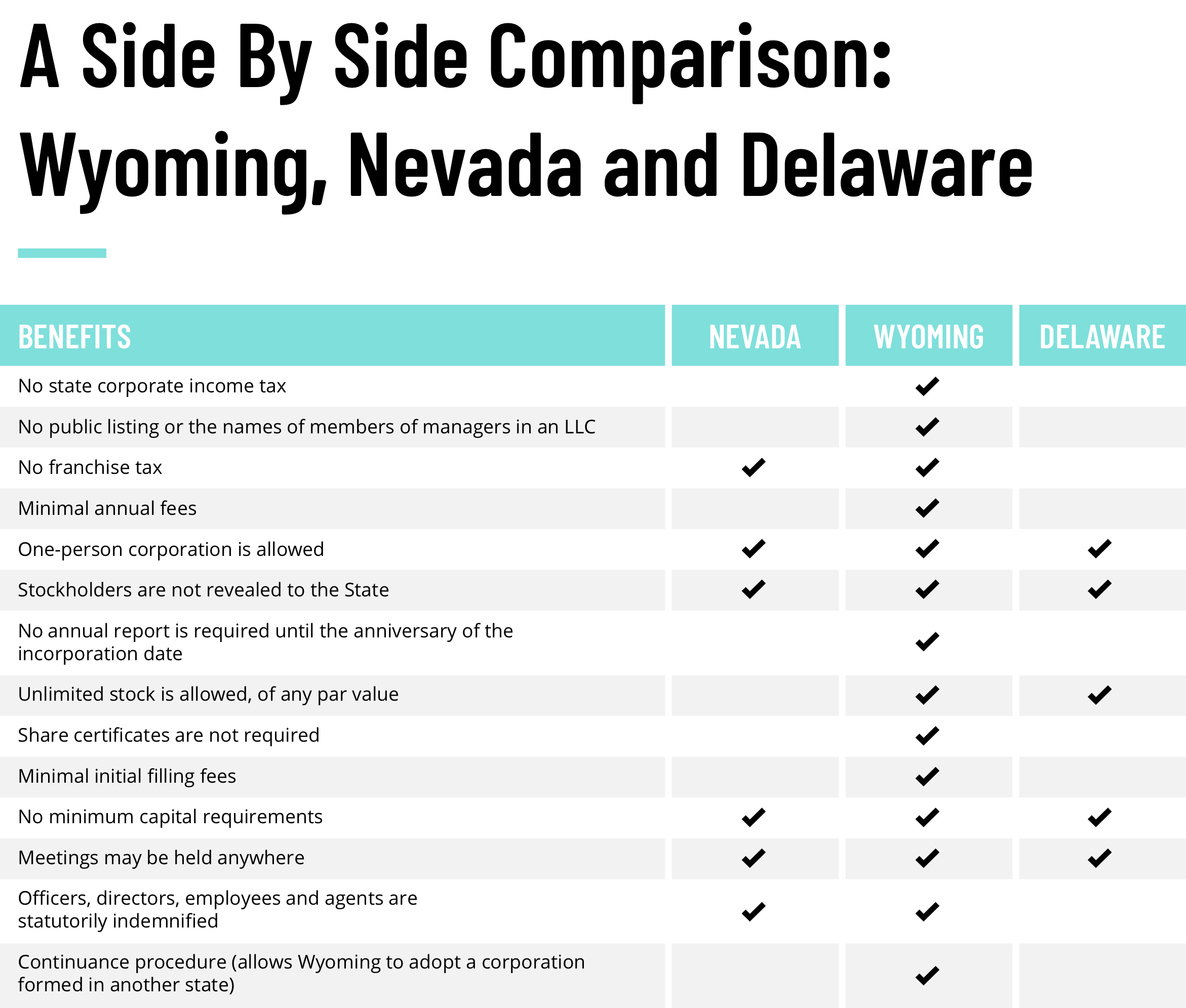 More because the state has no corporate income tax and protects your privacy by not publicly listing managers. It also has a continuance procedure—so if you're already incorporated in another state you can move your incorporation.
In a perfect world, you'd be able to incorporate through your bank account, because your bank already has all the pertinent legal info on file.
OK, full disclosure: Thanks to Joust, that world is here.
Incorporating through Joust is quick, easy, and painless.
Here's how it works:
Select the "Inc" option online.
Confirm your personal information.
Enter your business name.
Click "Submit." We'll generate the relevant documents and send an email asking for your signature.
Sign those documents electronically. We'll submit them to the state and IRS.
The IRS then sends you an U.S. Employer Identification Number (EIN).
Boom, you're incorporated!
We promise once you've incorporated you'll still feel like a person—just a very well-protected person. Everyone who is freelancing should have this sort of shield.
This blog post is not a substitute for legal advice. If you have specific legal issues or questions, discuss them with your legal advisor.
George Kurtyka is the Chief Operating Officer of Joust, bringing corporate banking protections to entrepreneurs allowing them to focus on growth and innovation. Joust is the exclusive banking partner for Freelancers Union.
Sign up for Joust now at www.joust.com to earn Pathfinder status, which gives you exclusive access to the Joust toolkit before we open it up to the world. Freelancers Union members can use the code "UnionPerks" to receive exclusive benefits:
Priority membership when Joust launches to the public in early 2019, thus avoiding a waitlist;
Fees waived for the first $25,000 in transactions processed during the first 6 months;
Freelancers Union members will have the opportunity to provide crucial feedback on how the Joust platform can better serve Freelancers Union members and their businesses;
Refer your friends & colleagues to receive $5 per person to put towards transaction fees or other rewards.