Much has been written about the gig economy and the state of freelancing. You've likely heard the incredible stat that 40 percent of the workforce will be independent by 2020. You might have also heard the frustrating finding that most freelancers have had trouble getting paid by a client at least once in their career.
These types of findings are helpful to me and my team since our product is designed empower the growing independent workforce. It's been crazy to watch the movement evolve even in the past few years.
Earlier this spring, AND CO launched a comprehensive survey of independent workers. The participants spanned a wide range of professions (from creatives and coders to consultants and content specialists, and everything in between) and regions. Our mission was to get inside the minds of today's freelancers so we could better understand what challenges, what inspires them and what makes them tick.
What we found—among many, many interesting insights, listed below—was that members of today's independent workforce are completely rewriting what it means to be "freelance."
The conventional definition (and stigma, really) of a freelancer is someone who is in between jobs, floating aimlessly from gig to gig. As we hypothesized, and as most freelancers reading this know, that couldn't be further from reality for today's independent workforce.
For starters, today's freelancers are making careers out of their professional agility: 95 percent of respondents in our survey said they sell multiple skills. They are "Slash Workers," as we like to call them at AND CO, and their versatility and ambition make them the most potent breed in the gig economy.
They also see freelancing as a career path, not a career placeholder, as the stigma would suggest. Just 6 percent of survey respondents indicated they were freelancing until a full-time gig came along. Another 41 percent said they intended freelance forever.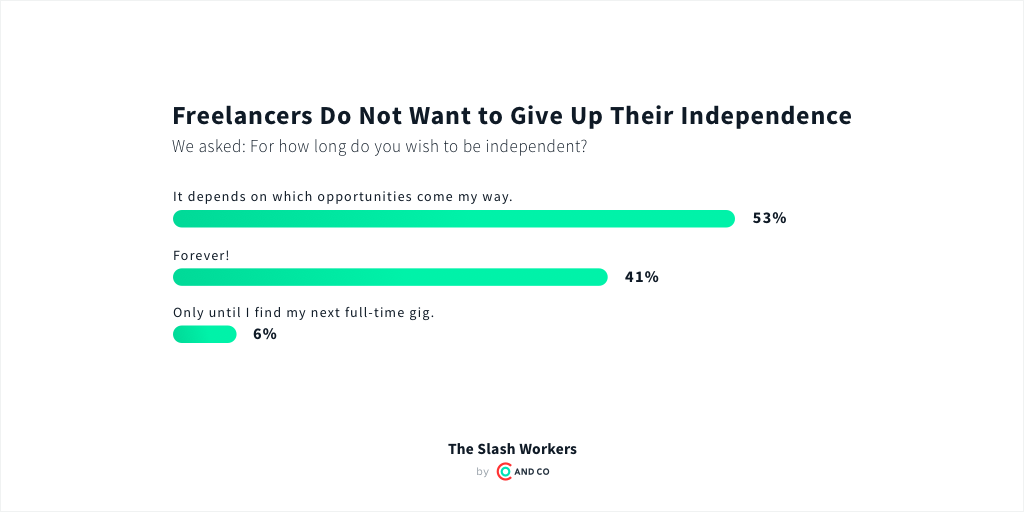 Another interesting insight was revealed when we pressed respondents to candidly share with us their feelings toward their financial stability and the overall stressors that the independent life brings with it. Not surprisingly, 77 percent of respondents said they feel less financially stable since going independent; however, 68 percent of them said that, in spite of this, their quality of life has improved. For freelancers, freedom is the new wealth.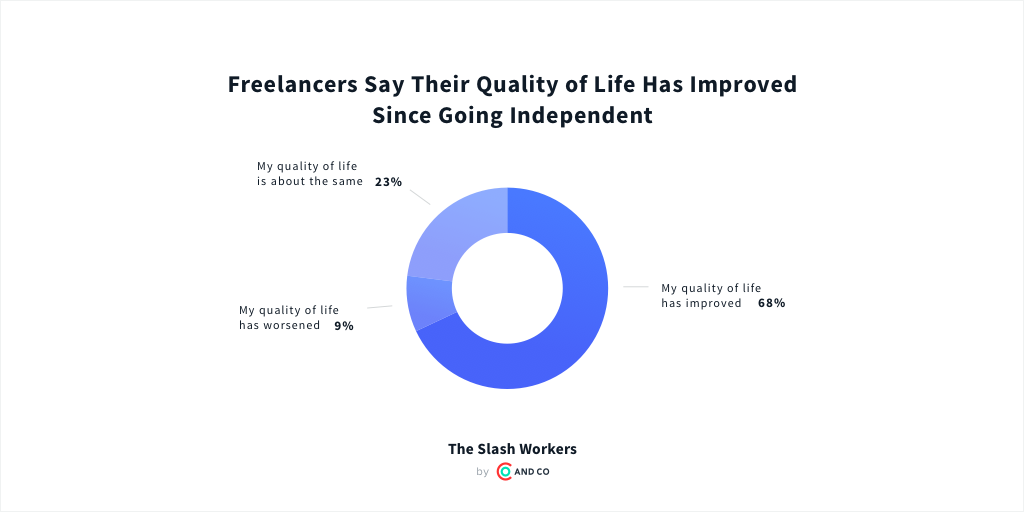 Some of the other findings include:
The No. 1 reason respondents say they went independent was for "personal growth" and just 6% say they did it for the financial upside.
60% of respondents say they would be open to a nomadic lifestyle.
Men were 4.5X more likely to earn more than $150,000/year than women; though more male respondents said they'd been stiffed by a client before.
And how about what's missing? For one, freelancers say they want a little more R-E-S-P-E-C-T (60 percent say the freelance stigma is alive and well). In addition, they're looking for a sense of community—Freelancers Union is a great resource for that—and more remote work options.
Check out the full study at https://and.co/slash-workers and shoot us a tweet @andco to let us know what you think.
Leif Abraham is co-founder of AND CO, the support system for freelancers and a partner at Prehype, a venture development firm in New York.
This is a sponsored post by our friends at AND CO, an invoicing app for freelancers. Check out our co-created Freelance Contract here.
With over 300 contributors and 2 million readers, the Freelancers Union Blog is the foremost publication dedicated to empowering the independent workforce. If you'd like to partner with us, please get in touch at partnerships@freelancersunion.org.