Freelancers in Madison, Wisconsin may spend most of the year under a blanket of snow, but that doesn't make them sleepy… Quite the opposite, they're making magic, spreading love, and sprouting creativity.
But July brings warm weather to Madison, which means freelancers take a little more time away from their many jobs to enjoy outdoor activities like water skiing as well as hiking or biking on Madison's extensive 200-mile trail system. In fact, Madison has been voted one of the best cycling towns in the USA!
Coffee shops like Bradbury's and Michelangelo's break up the WFH routine and for eats, freelancers rave about the city's plethora of farm-to-table options, the burgeoning vegetarian scene, and diner's choice of waterfront hot spots. And for indoors fun? The Madison creative set likes to take in a little classical music, contemporary theater or visual art at one of the city's many cultural centers.
At 100state, Wisconsin's largest co-working community, freelancers and startups don't just share space – they collaborate to build a connected society in which problem-solving for the 21st century takes center stage. It's the perfect setting for SPARK events, where freelancers gather each month to exchange ideas about freelance life and meet their "co-workers."
Leaders Mariah Liisa and Matt Nelson put together a rad event each month where freelancers, even the newbies, feel right at home and have plenty of opportunities to ask questions and meet new friends. Mariah Liisa is a graphic designer with a penchant for rainbow colored hair and exotic pets. Matt is a WI graduate, a marketing consultant, and a leader in the small business community.
July's event brought out freelancers from all corners of the city – including many graphic designers, professional development coaches and consultants, a magician, a budding Kung Fu instructor, an urban design and interior designer, an industrial engineer, an author, and a wedding photographer. It's always surprising how, despite the diverse array of job titles and specialities, there's a ton of common ground to hew and creative or professional partnerships to forge.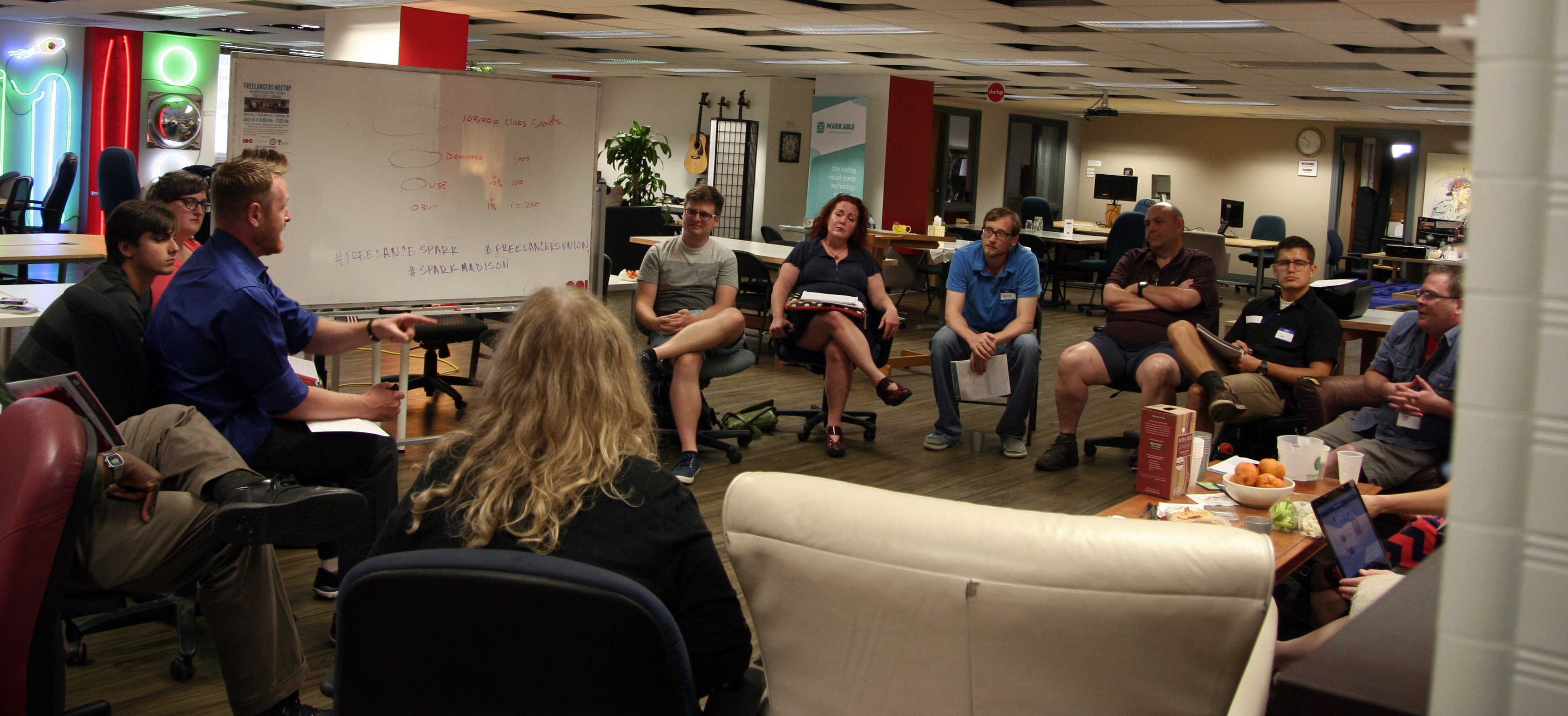 Though the SPARK event was ostensibly about pitching, the conversation diverted as the group got engaged with talking about the sales funnel, CRM, and the struggle to find your own niche. At one point, the magician, Lochlan Masters, shouted out: "You don't sell the steak, you sell the sizzle." The phrase became a kind of mantra for the evening – a metaphor for finding that special something about your product or service that makes it stand out.
Finally, we traded some resources including a process that Scotia, an urban and interior designer, uses to onboard new clients to her process.
If you're ever in Madison, WI during SPARK week, be sure to drop in to meet the crew. You can get in touch with the organizers and community via the Hive group and RSVP on the Eventbrite. At the very least, you'll get some great suggestions for how to spend your time in Madison!