When you're just starting out as the creator of something handmade, or a "maker", getting your product out there can seem a little daunting. Website? Check. Etsy account? Check. But, unless you have a small fortune to spend on advertising, your product can easily get lost in the black hole of the internet.
However, summer is a great time to get some real exposure. By selling at markets and festivals, you can boost sales, add new customers, and increase brand awareness. It's also a great opportunity to network.
Personally, I love meeting returning and potential customers face-to-face because it's a great way to receive constructive feedback on my products. Of course, there is a lot to consider when it comes to choosing and preparing for markets. Below is a helpful list for getting your business market ready:
Choose your market wisely
Do some research beforehand. If I get asked to do a market I have never heard of, I usually visit the market first and ask the vendors how they're doing. There is nothing worse than putting your hard earned time, energy, and money into a disappointing market.
Is the market advertising? Are their social media accounts active and engaging? Is the market in an area that will have plenty of foot traffic? These are some of the major points to consider when choosing whether or not you should sign up for a certain market.
Plan your display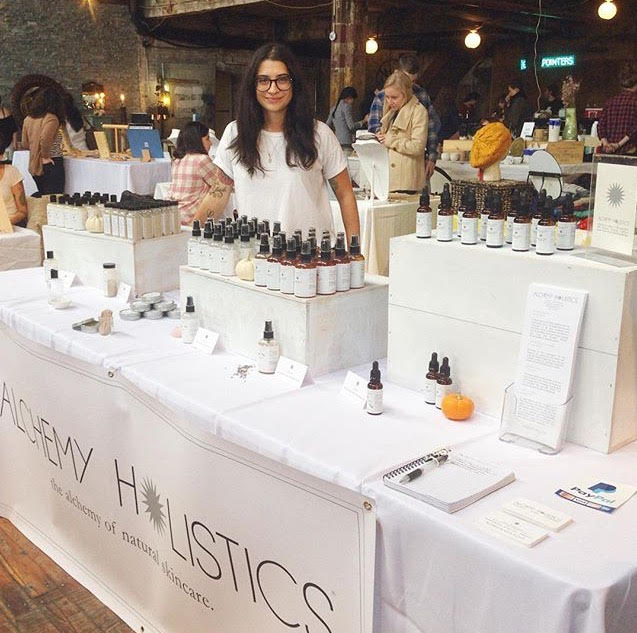 When signing up for a market, make sure you understand what's included in the "booth rental" price, because the definition varies from market to market. Generally, a summer market display starts with a folding table or 2 (or rolling racks if you're selling clothing), a tablecloth, and a pop-up canopy tent.
After that it's time to get creative, whatever you choose for your display, try to stick with the aesthetic of your brand. Using props and risers can create depth and height on a table. My skincare line, Alchemy Holistics, has clean, white labels. Because of this, I chose a clean white display.
Be sure to also have all of your marketing materials as part of your display as well. Business cards with website and social media information as well as an email sign-up are crucial. You'll be surprised at the sales that post-market communication with your potential customers can bring.
Don't be shy
So you've done your homework and your table looks great. Now it's time to sit back and let your product speak for yourself, right? Nope!
As much as an eye catching display is important, it's even more important to be friendly and engaging to potential customers. That means not slouching in a chair behind your table or being on your phone. Make sure to stand next to your table, smile and look approachable.
Even better, try to think of a way to engage with your audience when they're hovering around your display. For Alchemy Holistics, I have a set of samplers out and encourage people to try each of the products. I also perform regular demos. If your product is edible, offer free samples to passersby. Whatever works for you and your product, do it!
Get to know your neighbors
For many vendors, doing markets isn't just a hobby, it's their livelihood. These people know the in's and out's of the market scene, and a lot of the most valuable lessons I've learned have come as a direct result of conversations I've had with fellow vendors.
Even if it's someone that sells a similar product as you, never look at them as competition. Remember, they are doing the same thing you are, and it's a great way to share valuable advice. In my experience, the natural skincare customer loves all natural skincare, and will visit and many times to purchase items, usually at multiple skincare booths.
The same goes for the jewelry customer, letterpress customer, etc. So go ahead, make some friends!
Make no mistake, preparing and selling at markets is a lot of work and will take a lot of time and effort. That being said, it's a great way to get your product out there and network with makers, just like you, so have fun!
Happy festival season!
Gina Pulisciano is the creator and founder of Alchemy Holistics, an all-natural skincare line made for sensitive skin, based in Brooklyn, NY. You can find her at many NYC based markets, or at her website Alchemy-holistics.com and Instagram.