This is a post from a member of the Freelancers Union community. If you're interested in sharing your expertise, your story, or some advice you think will help a fellow freelancer out, feel free to send your blog post to us here.
I grew my business by going to lots and lots of networking events. During that time, I learned five basic rules about how to stand out at a networking event. When I do attend events now (like, once every few months), I pull these tricks out of my bag. They work every time.
Smile
Seriously. This seems like a no-brainer, doesn't it? But I swear to god, at every event I attend, there are people who look angry or outright depressed. Those people scare the hell out of me, and I don't go near them.
At one of the very first events I went to – a huge Chamber of Commerce event – I approached a group of young people with a big smile plastered on my face and said hi. They stopped talking and stared at me. It was weird and uncomfortable. I tried to start a conversation, but got the equivalent to one word answers. To this day, I wonder why they were so mean (and then I take great comfort in the fact that I am happy rather than mean and angry).
And listen, we all have shitty days, but you can't attend an event if you're in the wrong frame of mind. You'll either scare people or leave a very bad impression – and erasing that bad impression is impossible. Go home or hit the gym instead. If you really want (or have) to attend this event, turn that frown upside down before you walk through the doors. You'll feel better, and you might end up having fun.
Join a community of connected freelancers (it's free!)
Become a Freelancers Union member
Have a quick and simple answer to the question, "What do you do?"
Your answer should be one sentence and take about 15 to 30 seconds to spit out. If you end up talking in circles, repeating yourself and stumbling over your message, guess what? I'll think, "This person has no idea what they do, how they help their clients, or WHY their business exists."
That is very bad for a few reasons. One, I'll still have no idea what you do. Two, I can't ask more questions to dig deeper and understand who your ideal client is. Three, I can't introduce you to people who might be good partners or refer people to you.
Avoid talking about yourself
This sounds dumb, right? But there's psychology behind this, so stick with me. People LOVE to talk about themselves. Love it. And you don't have to talk about business either.
Maybe you'll discover that you both love to water ski or make your own (cocktail) bitters. Talk about that, but let the other person do most of the talking. They'll walk away from that conversation thinking, "Wow, Bill is seriously the most fascinating person I've ever met."
They will remember you, I guarantee it!
Find ways to help people
Most people attend events with their hands out. Do the opposite and approach events as an opportunity to help people. That's right – your goal is not to get clients. It's not to get referrals. It's not to hand out as many business cards as possible. It's to help people.
If you're talking to a fellow small business owner, ask them what their biggest challenge is. Based on their answer, you might know so someone who can help them, whether it's your accountant or another business owner who might make a fabulous partner.
Now, the beauty of helping people is that it typically requires a follow up phone call or email so you can make an introduction or pass along valuable information. Additionally, the person who you help will likely feel obligated to return the favor, so when they do ask how they can help you, pull out my favorite question of all time: "Who do you know who can use my services?"
Have something – a title, a piece of jewelry, shoes – that is a conversation starter
People love my title, "Head Kick-Ass Copywriter." They remember it, they talk about. I even had one person seek me out an event specifically because, "I really wanted to meet the person who had the best title ever."
My friend Borzou is famous for his red Ferragamo shoes (similar to these). Great conversation piece. Maybe you have blue hair or a huge necklace or a crazy hair cut (like The Weeknd). Do something to stand out among a sea of navy suits and black dresses.
Go forth, network, and have fun! And I'm curious – how do you stand out at a networking event?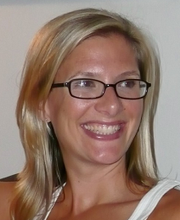 Monika Jansen is a copywriter and editor who is happiest pounding out blog posts, website content, and other marketing materials for her clients, who tend to be freelancers, tech companies and small business owners. She is also a blogger for Groupon and Web.com. You can follow her on Twitter (@monikacjansen) or find her on LinkedIn.