As freelancers, we know that flexibility is one of the key values we provide to our clients. But for many of us, our agility is cramped by a system that discourages taking the leap to a freelance lifestyle.
You know what I'm talking about: Benefits. Getting affordable health, dental, and retirement benefits remains one of the biggest struggles for the freelance workforce.
And yet, there's a solution out there – we need a portable benefits platform.
The idea behind this is simple: a person's benefits should be attached to them and not the organization or employer.
That way, when we move, our benefits move, too. Freelancers today are more mobile than ever and we need a benefits platform that matches.
Freelancers Union Founder and Executive Director Sara Horowitz has a plan for how a portable benefits system can work.
As in-demand workers, Freelancers need to provide our services in the now. So shouldn't our benefits have the same accessibility?
It's time we demand portable benefits.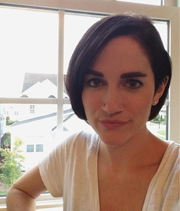 An aspiring novelist and human and animal rights activist, Sarah Sather is the Communications Associate at Freelancers Union. When she's not writing blog posts and editing articles, Sarah's exploring NYC with her lovely girlfriend and their dachshund Mila.