This is a post from a member of the Freelancers Union community. If you're interested in sharing your expertise, your story, or some advice you think will help a fellow freelancer out, feel free to send your blog post to us here.
Whether you're a student, a businessman, a writer, or journalist, you will be required to write on a daily basis.
It's great, because you get to express your ideas in a creative way. What's less great is when those ideas run out and you run into writer's block.
Now, if you have the luxury of waiting until your inspiration comes back, fantastic! But, sometimes, especially if you're a freelance writer or a journalist, you'll still have deadlines hanging over your head, and you have to write, even if you don't feel particularly inspired.
Lucky for you, we have taken the time to gather some tools which can help you break through your writer's block and write whenever you want to. Check out the list below.
1. Bubbl.us
Nothing helps you come up with some writing ideas like a productive brainstorming session, and Bubbl.us is one of the best tools for it out there.
2. Übersuggest
This effective online tool can help you figure out some of the keywords that are relevant to the topics you are interested in. Just type a term you're interested in to receive keywords.
Join Freelancers Union (it's free!)
3. Evernote
If you develop a habit of writing down and stockpiling your writing ideas, you will never encounter writer's block, which is why we recommend you check out Evernote.
4. Wridea
Organize, improve, and share your ideas with friends and collaborators in a matter of minutes with Wridea.
5. HubSpot Blog Topic Generator
Come up with a week's worth of ideas on the topics you are interested in thanks to HubSpot's Blog Topic Generator. Enter up to three keywords and let it do its magic.
6. Impact's Blog Title Generator
Another online resource which helps you generate topics and titles for your article based on a single keyword.
7. Bottlenose
Sometimes, the best way of figuring out what to write about is to follow what's trending, and Bottlenose will not only tell you that, but it will also tell you why it's trending.
8. Topsy
Find out which topics have got people talking, which are some of the most influential individuals currently online, and plenty of other useful stuff.
9. Paper.li
Another way of getting over your block is to rely on a content curator website that provides you with fresh and interesting content daily. Paper.li is probably the best of the bunch.
10. Write or Die
Get your creative juices flowing with Write or Die, which requires you to do just one thing: to write. It doesn't matter what about, just do it, or you will be punished.
11. EssayMama.com
In addition to providing professional writing, editing and proofreading services, Essay Mama can also provide you with some useful tips and tricks on how to overcome writing dry spells.
12. Quora
If you are running low on inspiration, take part in discussions on Quora, which is a melting pot of different ideas and views on a wide variety of subjects, and an inspiring environment in general.
13. Twitter
Short on writing ideas? Turn to your social circle on Twitter in order to come up with that creative spark you need. The same goes for every other social network you are a part of.
The Story Starter, just like its name says, will help you get started by generating a random sentence which you can use as an inspiration to come up with a story.
We absolutely love Language Is a Virus. Every time you need an idea or a writing prompt, it is there for you. Its prompts are vastly superior to the usual generic stuff you'll find online.
16. Creative Portal Imagination Prompt Generator
If you are not particularly fond of the writing prompts you get from Language is a Virus, you can check out this app which offers a similar service.
17. Google Analytics
If you are writing online, Google Analytics will provide you with an insight into what sort of content has had the biggest impact on your audience so far, which means you can focus more on it.
18. StayFocusd
Eliminate all of the distractions which prevent you from focusing on your writing with the help StayFocusd, which limits the amount of time you spend on distracting websites.
19. Coffitivity
Being in a busy, noisy environment, like a coffee shop, can have an inspiring effect on some writers. If you fall into that category, check out Coffitivity.
20. YouTube
Although the world's premiere distraction seems like a poor destination for getting over your writer's block, it's actually a good way of getting inspired. Watch something clever and intriguing, and then write about it.
It's no secret that reading kicks your imagination into high gear, and with it, your writing inspiration, so what better way to do that than to access one of the largest libraries online?
22. Ilys
Ilys provides you with a distraction-free editor which allows you to edit your work only after you've hit the word count you've set yourself. Here's the kicker: you can only see the last letter you've typed, nothing else.
Rest assured that you'll never run of it writing ideas using these effective and powerful tools. Writer's block is now a thing of the past.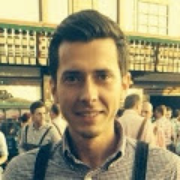 Kenneth Waldman is a freelance writer and content creator. Get in touch with him on Linkedin.