Need help dealing with a legal issue? Download the Freelancers Union app to connect with a lawyer committed to helping freelancers and who understand the freelance life.
Protect your work: Build a standardized client agreement with our step-by-step freelance contract creator.
---
This is a post from a member of the Freelancers Union community. If you're interested in sharing your expertise, your story, or some advice you think will help a fellow freelancer out, feel free to send your blog post to us here.
There are a lot of huge benefits to working as a freelancer—but having to constantly hound clients for hard-earned money is not one of them. Unfortunately, it's extremely common.
Just about every writer, photographer, artist, designer, or consultant who's ever worked on a freelance basis has at least one nightmarish tale of invoices gone unpaid, or worse, clients who actively refuse to pony up.
The check is somehow always "in the mail" or "coming next week"—meanwhile, our own bills pile up, because, as Wil Wheaton recently noted, exposure can't pay the rent.
Delinquent clients are such a known problem in freelancing that Freelancers Union created The World's Longest Invoice, a running tally of unpaid tabs, where freelancers can go add their names and their outstanding payments.
At present, the total is close to $16 million.
And it's not small-time shops, either—major websites and companies, who definitely have the resources to pay their workers and get it over with, have skipped out on their bills, or taken much too long to pay up (when the average freelance contract requires payment within 30 days).
"Two tech pubs have taken months and months to pay me for published work," says Nicole Spector, whose work has appeared in VICE, the Atlantic, and Salon. "One organization took about A YEAR, and I had to call out the CEO via Twitter to get my case heard — and payment sent."
Non-payment has gotten so bad that some freelancers have begun to demand their money upfront.
"Client X is a pretty big creative agency. From what I know about them, cash flow is not an issue. However, they drag out payments for 60 days! SIXTY!" wrote Monika Jansen for Freelancers Union earlier this year. "So, if I delivered work the week before Thanksgiving and invoiced them immediately, I would not get paid 'til New Year's Eve 2016 was a distant memory. Frankly, that is BS."
Now, says Jansen, her contract asks for payment before the delivery of work in instances which are less than $1,000; for contracts that will be more than $1,000, she asks for half of the money before the product is delivered.
For others, though, it's still a matter of chasing checks. Here are a few stories from real freelancers who have had to demand what's owed to them—and their advice about how to avoid non-payment in the future:
Tom Clarke, of Thomas Robert Clarke Photography.
"To be honest I've had a pretty good track record for getting paid by my clients in a timely matter. That is until recently!
I do a good deal of lifestyle location portraiture for magazines and had a very good relationship with one particular publisher except their payment practices were ridiculous!
Their basic contract specified that they would not remit payment until up to 90 days after publication of the piece!
Given that most assignments were completed weeks before publication, that's close to four months before getting paid—and they were horrible about sticking to that.
I wear all the hats in my business and can't afford to operate on that kind of spec let alone remember to hound them every 90 days.
I was planning on telling them that they needed to change their policy to net 40 or less before I would agree to shoot for them again, but before I had the chance, they reached out with a new assignment and said that because they were having such hard time sticking to the 90 day schedule they were removing it from their contract and said that frankly this didn't mean payment would come sooner than 90—more likely later.
In my experience, when a magazine stops paying its contributors, the end is near.
So I had a nice conversation with the editor and thanked her for all her great assignments (they really were pretty great) and told her I would not be a resource to them until they changed their policies... or for her to feel free to reach out to me when she's moved on."
Got stiffed? Do something about it
Join the #FreelanceIsntFree Campaign
Here's Stephanie Kapera Hawkins of Up All Night Creative.
"I had a client (a marketing agency) that was completely ignoring my invoices. I'd already delivered all the writing I'd promised, which was about $2k worth of work.
For several months, I sent the agency owner bi-weekly emails reminding her that her invoice was overdue. I had absolutely no luck. She didn't respond to me emails and did not pick up the phone when I called.
I decided to look into my legal options.
One of my friends is an attorney, and he agreed to represent me pro bono. He sent a strongly worded email to my client, stating that he would be handling this matter from here on out.
He re-stated the amount due and said if it was not paid in full by a date a week in the future, he would file in small claims court.
All of the sudden, my client—who had been completely silent for months—leapt to attention. She wrote back, apologizing, full of excuses as to why she hadn't paid me yet. Within days, the full amount was sent to me via PayPal.
Sometimes, a lawyer really is the way to go. In the future when working with smaller companies, I would absolutely require at least a 50% deposit."
Now, from Zach Alam, Founder and CEO of Everbranded.
"I did freelancing for about five years. As in any industry, you'll always run into clients that don't pay. Here's what I did to drastically reduce non-paying clients.
1. Build extremely detailed proposals - with strict deadline dates.
2. Request at least 50% of the project budget upfront.
3. Deliver completed project only after the final payment."
Here's Jared King, Co-founder, invoiced.com.
"One of my first jobs as a freelance web developer was to build an online store for coin collectors. Even though we agreed on the deliverable and price up front, the client withheld payment as a form of blackmail to squeeze extra work out of me.
It did not end well as I had to walk away after wasting months of working without pay. My takeaway? Collect meaningful deposits up front and bill regularly instead of once at the end."
Christina Nicholson, Media Specialist. Find her website, blog, and Facebook.
"When I started freelancing/launched my small business, I was shocked at the amount of people who didn't want to pay me. People think because you are providing a service, they don't have to pay you, or can pay you next to nothing because they are just using your time and expertise.
Newsflash: That's valuable!
True story: I have spent hours talking to potential clients about their business and brand and how I can help them. Then, I spend even more time drawing up a proposal. Once, I was told, 'You misunderstood. We don't have a budget to pay you.'
I misunderstood? You found me on a site that pays freelancers for services rendered, but you don't want to pay me? No sir, you misunderstood.
The second time, from another potential client, it was, 'I can't pay you now, but I will give you stock in the company as payment.'
Can I make my mortgage and car payments with stock in your company that has yet to launch? Nope. Buh-Bye.
Again, another suggested, 'Let me just test you out for a couple months to see how it works.' When I asked what he meant by 'test' me out, I got no response.
I'm going to assume that meant work for free. Again, I have bills to pay. I'm not a rich do-gooder who does this for the fun of it. (FYI, I only work for free/for pennies for two kinds of people – one that put me through college (hi dad!) and non-profit organizations.)
Out of everything that has surprised me in my new career, this is the most disappointing – not because I want to get rich, but because it shows the character of someone when they try to take advantage of a hard working person. We all love a good deal, but come on.
So, I have quickly learned a few things to combat this:
1. If you aren't embarrassed by how much you're asking, you're not asking enough.
It sounds silly, but no matter what you charge, people will always try to talk you down. Even if you say I'll do the job for 50 cents, they will try to get it for a quarter. So, ask for more.
2. Separate business and friendship.
Don't try to be the nice person who does favors for people. That doesn't pay the bills and that's not how business works.
3. Finally, know your worth.
We all need to make money, but if you start accepting low paying jobs left and right, you will get yourself in a cycle that will be hard to get out of.
I think starting out, you may need to do this to make ends meet. So, take the low paying jobs, do a REALLY great job at them, then raise your prices because you deserve it and you've earned it."
Whether it's threatening legal action, re-writing your contract to ask for upfront payment, or sending so many invoices that it's just plain irritating, figuring out how to get paid for your work is a huge part of freelancing. Use these expert tips, and hopefully, you can spend a lot more time working, and a lot less time hitting up deadbeat clients.
Check out Becoming a Successful Freelancer on CreativeLive and learn how to acquire the right freelance clients for your business.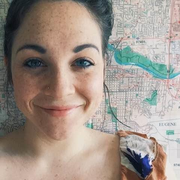 Hanna Brooks Olsen is a writer and editor, longtime reporter, and co-founder of Seattlish. Follow her on Twitter and learn more on her website.