Contracts are essential to a healthy freelancer <---> client relationship, and yet so many of us skip this important step!
On October 7, freelancers across the United States gathered in 18 different cities and provided counsel, support and feedback for one another at the SPARK "Make your contract your best business ally" workshop event. Turns out, you don't even need a law degree to create a bullet proof contract!
Did you miss this indispensible workshop? Never fear: Our curriculum co-creator, Katie Lane, sums up the main points here.
And don't forget to RSVP to next month's event...
How to Build an Inspired Business
RSVP
Just here for the networking and free food? Read on to see how 18 SPARK cities across the country made their contract their best business ally.
SPARK Austin knows that the key to getting paid on-time and in-full is a clear, well-defined contract:
Hey #austin come to #FREELANCESPARK and learn with us! pic.twitter.com/xW9uuWFTTc

— Therockyverse (@Therockyverse) October 7, 2015
And on that note, some advice from SPARK Chicago:
"Clients who are not willing to pay a bit upfront are usually the ones who are going to have issues when making the full payment."
At SPARK Portland, freelancers got straight to work:
Another great #freelancespark pic.twitter.com/bALTwMbqCY

— Portland Freelancers (@FreelancePDX) October 8, 2015
Over in Phoenix, SPARK leaders counseled attendees to add "kill fees" to their contract terms in case the client has to terminate the project - leaving you with work in hand but nothing in pocket.
Good advice from Phoenix.
"Kill fees: not as good as getting paid completely, better than nothing! Ensure you get paid for the work you've already done."
SPARK LA kicked off the convo with a few icebreakers around the issue of nonpayment and a worksheet on how to create a "storybook contract."
It's about that time for @freelancersu SparkLA #freelancespark let's talk contracts #freelance #FreelanceIsntFree pic.twitter.com/duRCotbj6B

— Elle Toussi (@ElleToussi) October 8, 2015
SPARK San Diego reminded creative freelancers to carefully consider and protect the rights over their work:
"The most important part of a freelance contract should be is ownership, particularly when it comes to creative works of art. Clearly defining who owns what, when, will help get you out of any sticky situation of the client asking for more or wanting to change things."
In a similar vein, SPARK Memphis kicked back with Autumn Witt Boyd - a copyright and trademark expert helping creative entreprenuers:
Thanks for joining us via Skype tonight @AutumnWittBoyd! #freelancespark #freelanceisntfree pic.twitter.com/vDihM6rQRo

— Caitlin L. Horton (@dizzycaitlin) October 8, 2015
The event wasn't just catered to creatives, however; freelancers across all kinds of industries learned the best practices for creating a contract for their own unique business. Check out the variety of freelance industries present at the SPARK NYC event: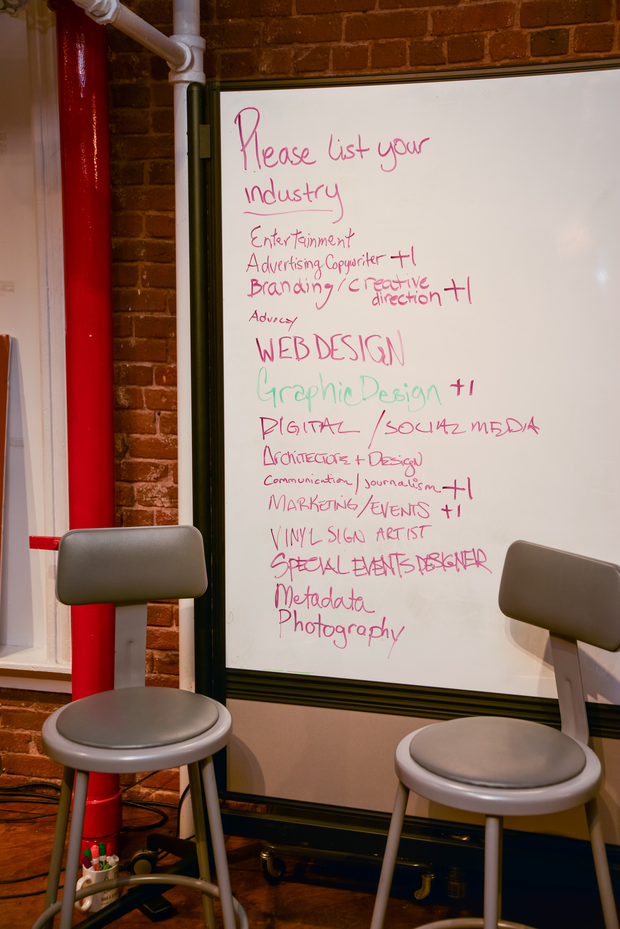 Ultimately, a contract reinforces that #FreelanceIsntFree, but ending client nonpayment also means getting the support of yor local lawmakers. Take the first step by joining the #FreelanceIsntFree campaign today:
See you next month for SPARK November, Freelance Nation!
This Spark event is brought to you by 17 hats!
17hats is a cloud-based all-in-one business management solution that provides a single hub for email communications, quotes, contracts, project management, bookkeeping and more. Today, more than 7,000 entrepreneurs use 17hats to get organized, save time and end the chaos of juggling multiple business apps.
At Freelancers Union, Sharon creates opportunities for freelancers to meet, greet, and learn. Find her @sharonlikestone or at the nearest bakery.