"I am a bookseller, and thus a self-employed small business owner.
Right now, non-payment from clients is a huge issue for small business owners and freelancers. We are now 1/3 of the workforce, and 77% of us have had problems getting paid on time, but we have no protections under the law.
What will you do to help SBOs and freelancers to get paid for our work?"
- Sunday Steinkirchner, Freelancers Union member, to President Obama via Twitter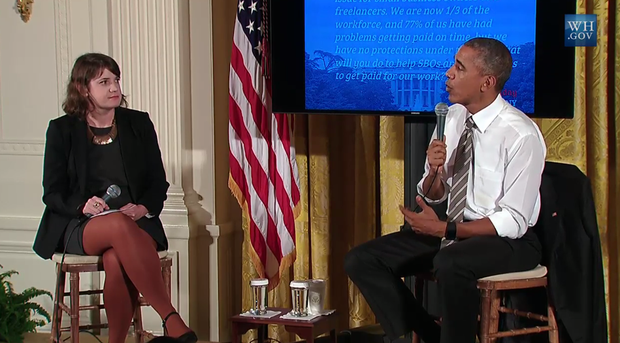 Yesterday, Sunday Steinkirchner, the owner of a rare-books store in Manhattan's Flatiron district, participated in the White House Summit on Worker Voice.
While she wasn't physically present at the White House, she made her presence known and her voice heard. Watch the video here.
At approximately 5pm ET, President Obama began to take questions from the audience and the greater listening audience tuning in online across the country.
President Obama addressed a broad set of concerns from workers across a number of industries. Questions about the gig economy and misclassification were raised, and it seemed he might speak to freelance interests – perhaps even acknowledge us as a viable part of the workforce.
But a nod from the President of the United States doesn't just happen: A community needs to raise its collective voice to amplify each individual voice.
Join the #FreelanceIsntFree campaign and make your voice heard.
Thanks to all the supporters of the #FreelanceIsntFree campaign, Sunday's voice pierced through the clamour of questions for the President of the United States.
In response to her question, the President acknowledged that changes need to be made and better business practices enforced.
Following his comments, Freelancers Union Founder and Executive Director, Sara Horowitz, introduced herself to President Obama and shared details around the client nonpayment problem.
President Obama listened, nodded his head, and declared in agreement, "Freelance isn't free,"
We spoke. He listened.
At Summit on Worker Voice, the members of Freelancers Union brought the #FreelanceIsntFree campaign to the attention of the President of the United States.
It takes a community to achieve independence. Join the #FreelanceIsntFree campaign and make your voice heard.
A new soul and media geek, Laura writes about sustainability, community, poetry and pop culture. Find her @Pennyscientist or on Freelancers Union.