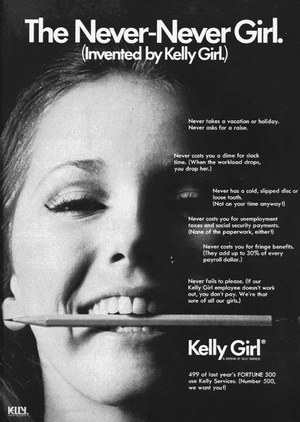 __ _"Never takes a vacation or holiday. Never asks for a raise.
_ _Never costs you a dime for slack time.
_ _(When the workload drops, you drop her.)
_ _Never has a cold, slipped disc or loose tooth.
_ _(Not on your time anyway!)
_ _Never costs you for unemployment taxes and Social Security payments.
_ _(None of the paperwork, either!)
_ _Never costs you for fringe benefits.
_ _(They add up to 30% of every payroll dollar.)
_ _Never fails to please.
_ _(If your Kelly Girl employee doesn't work out, you don't pay.)"
_ - Kelly Services ad in The Office magazine, 1971
Sound familiar?
It may come as a surprise but Kelly Services invented temporary employment 30 years prior to releasing this ad. After World War II, unions played a pivotal role and Kelly Services branded temp work as "women's work" to avoid union opposition.
'Kelly Girls' became cultural icons. The agency exploited cultural ambivalence towards women working outside the home by presenting their staffers as young, middle-class, white women interested in taking on temporary work to buy, say, a fur coat or avoid housekeeping boredom, rather than angling for a "bread-winning" position. By 1980, temporary employment skyrocketed to 400,000 temp staffers employed per day!
Today, we're seeing a similar rise in women among independent workers and entrepreneurs. But their contributions are far from insignificant. In fact, women launch 1200 new businesses per day, 4 in 10 new businesses are started by women, and it's projected that female entrepreneurs will contribute 5.5 million new jobs to the US economy by 2018. As our Founder and Executive Director Sara Horowitz observes in Fast Company, freelancing is feminist.
Still, the plight of the Never-Never Girl resonates with many of us at Freelancers Union. Shifting from a position in which employers take advantage of freelance and contract workers to a position of empowered autonomy can be easier said then done. Here are a few resources for how successful freelancers can achieve meaningful independence today:
Time off
Getting paid
Staying healthy
Taxes
Benefits
Maintaining boundaries with clients
Oh, and do yourself a favor - get involved! Join our Hives discussion network to connect with other freelancers online and attend live Spark events each month in cities across the county.
Join the nation's largest group representing the new workforce (it's free!)
Source: Hatton, Erin (2013, January 26). The Rise of the Permanent Temp Economy. The New York Times