It was a fierce competition, but we have our winner(s)!
We asked Freelancers Union members to share photos of their freelance companions and vote for their favorites. While the overload of cute made this a very tough call, two clear victors emerged!
Meet Bobby and Telsa – two lax, laid-back buddies that help winner Heather Mingo de-stress after a long day. We could all take a cue from these guys. Heather is a freelance actor, filmmaker, and voice-over artist based in Chicago. In her spare time she enjoys cooking, traveling, and hanging out with her freelance musician/composer boyfriend John, and of course -- Bobby and Telsa!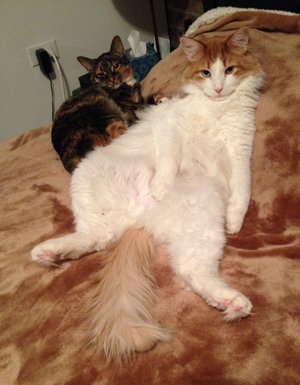 Our other victors are a furry triumvirate, caught in a candid moment below -- meet Lilith (cat on top) Gnocchi (rabbit, mid-air) and Bert (cat, missing at time of photo). (Note the handy copy of Freelancers Bible in the frame). Winner Kelly Peloza is a vegan cookbook author, blogger, and writer specializing in editorial food styling and photography. When not working, Kelly is trying out new restaurants around Chicago, crafting, reading or spending time with her girlfriend, and of course her two cats and bunny!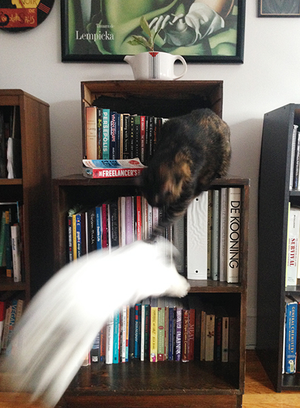 We hope our little contest has brought as much entertainment to your day as it has ours! Keep those pics coming in to our Freelancers Union Pet Hive and make sure to visit our online community where you can talk, form groups, organize events, share videos and photos, and meet up with hundreds of thousands of freelancers.
---
Join the nation's largest group representing the new workforce (it's free!)
---