February may be the shortest month, but it sure feels long.
The sky is gray in most parts of the country and our social calendars seem to freeze up alongside the weather. Coffee shops are crowded and office shares are full.
I find myself in my apartment, alternately staring at my computer screen and out the window, willing the sun to shine. Doldrums City.
Luckily, I'm not alone. There are a pair of running shoes sitting in the corner of my office, calling my name.
Running has long been my cure to combat the winter. There is nothing better than lacing up the shoes, doing some stretching, and leaping out into the fresh air of the city, and running miles around frozen lakes, through parks, and down bustling city streets.
Here are some lessons learned from almost 25 years of hitting the pavement:
Running clears your head, provides new perspective, and keeps the creative "writer's block" at bay.
Running is cost-effective—really just the investment in a good pair of shoes (vs. a pricey monthly gym membership).
Running compels you to make healthier choices while eating. Bananas and whole wheat pasta become kindred spirits.
Running is spiritual and leads to a sense of perspective and accomplishment. If I just finished running six miles, somehow pushing those twelve client invoices out doesn't seem so insurmountable.
Running can be a fine substitute for that afternoon cup of coffee. It's invigorating and shoots positive endorphins through the body.
Running is both solitary and solidarity. Nothing feels better than a hand-slap from a fellow runner as you pass each other on a trail.
When friends tell me that they don't know where to start when it comes to running, I advise them to start small. Power-walk. Then run one mile and feel good about it. Run a little more. Just see how it feels in your body. And don't worry where to put your hands and arms while you move.
Your body figures it out.
Freelancers, how are you staying active this long cold winter?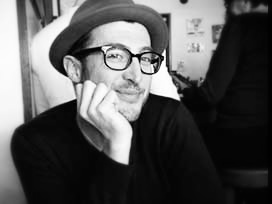 MARK SNYDER's plays include Trigger Guru (Available Light Theatre's New Play Initiative, 2014), As Wide As I Can See (HERE/At Hand Theatre, 2012), Corsets (2010), Wipe Away (Samuel French OOB Festival, 2010), Lila Cante (At Hand Theatre, 2009), The Sounds of Ice, The Beanbag Game, and Lilith on Today_. His plays have been produced and developed in New York and Chicago. A solo show Since You Asked Me To premiered in 2013 at Judson Memorial Church, where he is a resident artist of their Magic Time series. A new solo show I_'m Rooting for All of Us will premiere in Spring 2015. His reviews, essays, and interviews have appeared in Paste, The Rumpus, The Collagist, The Brooklyn Rail, The New Gay, Queerty, ThePeeq_, and at Maud Newton.com, and he has read new writing at_ Pete's Candy Store (courtesy of the2ndHand.com) and throughout downtown NYC. Mark is a core collaborator with The Claque_, where he co-wrote the popular_ The IRRegulars stage serial. BA, Otterbein College. MFA, Ohio University. Mark was born in Warren, Ohio and lives in Brooklyn. He is the Executive Assistant of the Freelancers Union.